Edward Walker
Alton | Monday, May 8 2023 |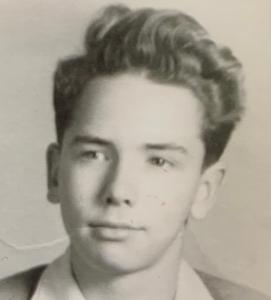 Edward Franklin Walker, 92, left this earth on Monday, May 8, 2023.
Born on February 25, 1931 in Alton, he was the son of Claire (Red) Edward Walker and Ruth Elizabeth (Hicks) Walker. Growing up in the historic middle town district of Alton, Ed graduated from Alton High School in 1949 and soon after, enlisted in the Air Force in 1951 achieving a rank of Airman Third Class. Ed conducted his basic training at Lackland Air Force Base in San Antonio, Texas. From there, he was stationed at Ellington Air Force Base in Houston, Texas. Following his military service, Ed began his own business known as Ed Walker Interiors and Design. Ed's attention to detail and witty sense of humor propelled Ed Walker Interiors to becoming a first call from the community elite for interior consultation. It was during this time, that Ed purchased the historic Haagen Haus, located at 617 State Street in Alton, and quickly began updating the 1870's historic structure. Ed's improvements and renovations bridged his interior design business with his new found love of hosting a bed and breakfast. Like any true artist, Ed was never satisfied with his work. Several renovations took place until he felt he had created the perfect environment for his guests. Rooms were turned into suites with kitchens, bathrooms, and their own entrance. The patio garden suite was eventually turned into a Christmas shop open to the public featuring customizable wreaths, trees, and eclectic handmade ornaments from around the world. Upon entering Ed's Christmas shop during the holiday season, one may have imagined they had been transported to Santa's workshop at the North Pole.
In addition to passionately owning and operating his business endeavors, Ed enjoyed socializing with family and friends over meals. He would often host Sunday morning brunch on his beautiful brick patio garden at the Haagen Haus, and frequent some of the area's best restaurants for evening dinner shenanigans.
Ed is preceded in death by his parents, Red and Ruth Walker; brothers, Gerald Walker and Stanley Ash; brother-in-law, Bill Gibbons.
Ed is survived by his sister, Carolyn Gibbons; sister-in-law, Charlene Walker; nephews and their families, Jeff Walker, Steve Walker, David Walker, Bob Walker, Scott Gibbons; nieces and their families, Jenny (Walker) Tullier, Kim (Gibbons) Haug.
Ed loved sharing gifts and Christmas decorations from his shop to the younger generations, especially his family. In lieu of flowers, memorial donations can be made to the Alton Boys and Girls Club in his name.
A memorial tree, honoring Ed's life, will be planted at La Vista Park in Godfrey, Illinois.
Obit Provided By:
Gent Funeral Home