Edith Louise 'Edie' (Tonsor) Garland
Jerseyville | Sunday, May 30 2021 |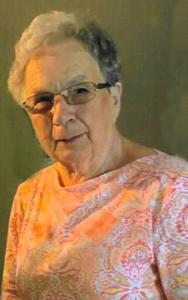 JERSEYVILLE ' Edith Louise 'Edie' (Tonsor) Garland, 88, passed away at 7:32 p.m., Sunday, May 30, 2021 at her home in Jerseyville.
She was born on July 22, 1932 at St. Joseph's Hospital in Alton and was the daughter of Joseph Tonsor and Edith (Schmieder) Tonsor. Sadly, Edie's mother and twin sister died during childbirth. At the time, much of her family resided together on her grandfather 'Bobo' Schmieder's farm home, including her mother's two sisters, Ceil and Teresa, who played an integral role in Edie's upbringing.
Her father later married Ceil, providing a loving home for their family.
Edie attended West Woods School in Fieldon and was a graduate of Jersey Township High School.
She met Truman D. Garland at the dance hall in Fieldon, Illinois and the two were married on Thanksgiving Day, November 26, 1953 at St. Mary's Catholic Church in Fieldon. Together they were the proud parents of seven children, and shared in many wonderful memories together throughout the 50 years of marriage.
A natural caregiver, Edie babysat for area family for many years, prior to becoming employed at the former Greenwood Manor Nursing Home in Jerseyville, where she worked as the Food Service Supervisor from 1973 until her first retirement in 1994. She came back a part-time cook, eventually retiring for good.
Following her retirement, she was active in the Holy Ghost Altar Society and volunteered her time at the Jersey Community Hospital Resale Shop.
Edie loved following St. Louis Cardinals Baseball and Notre Dame football games. She was an exceptional cook, and her family and friends alike, all benefited from her cooking and baking throughout the years.
Surviving are five children and their spouses, Gina and David Meyer of Jacksonville, Judy and Claude Lane of Jerseyville, Brenda and Mike Hunkins of St Peters, MO, Bev and Tom Dunning of Tampa, FL and Joseph and JoAnn Garland of Jerseyville; a son in-law, Mark Graham of Jerseyville; 17 grandchildren; 24 great-grandchildren; a sister in-law, Edith 'Edie' Tonsor of Jerseyville; and a brother in-law and sister in-law, Jim and Sandy File of Carrollton.
In addition to her parent's and her husband, she was preceded in death by a daughter, Mary Elizabeth 'Liz' Graham on August 25, 2004; an infant daughter, Laura Garland on April 12, 1966; a granddaughter, Melissa Marie Lane; three sisters, Janet File, Marcella Pohlman Schroeder and Lucille Hamblen; two brothers, John Robert Tonsor, Joseph Tonsor Jr.
Visitation will be from 4 to 7 p.m., Friday at Crawford Funeral Home in Jerseyville.
Mass of Christian Burial will take place at 10 a.m., Saturday at Holy Ghost Catholic Church in Jerseyville with Father Hyland Smith officiating.
Burial will follow at St. Francis Xavier Catholic Cemetery in Jerseyville.
In lieu of flower or plants, memorials may be given to St. Francis/Holy Ghost Catholic School or to Masses
Obit Provided By:
Crawford Funeral Home