Dylan Walker
Glendale, Arizona | Wednesday, July 5 2023 |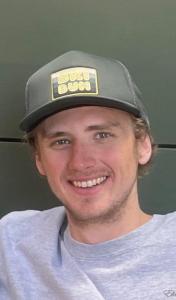 Dylan Daniel Walker, of Glendale, Arizona passed away on July 5, 2023, in a single auto accident, at the age of 27. He was born June 15, 1996 in Phoenix, Arizona; where he lived his entire life. Dylan's journey will be remembered as being a thrill seeker who dearly loved his family and friends. Dylan immediately became friends with everyone he met. Dylan found a love for soccer and skiing at an early age which he carried with him in his careers and hobbies.
Dylan's soccer experience began at age 5 with West Valley United recreational league and continued in high school and club soccer. Dylan loved playing all types of sports and making friends which developed his loving and playful personality. His passion for soccer grew as he transitioned from recreational to competitive club soccer with the CCV Stars making lifelong friends.
Dylan attended and graduated from Sandra Day O'Connor High School in Glendale, Arizona in 2014. While in high school, Dylan lettered 4 years in Varsity soccer and received several recognitions and awards. Dylan worked at the indoor Arizona Sports Complex (ASC) in Phoenix where he enjoyed coaching and training kids. He loved teaching and interacting with kids of all ages while sharing the excitement and love of the game. During this time, he continued to play indoor, adult league soccer with his friends.
While working at ASC, he attended Glendale Community College (GCC). After a short time at GCC, he left the valley and transferred to Coconino Community College in Flagstaff, Arizona where he received his Associate Degrees. He then pursued his Bachelor's degree in Parks and Recreation at Northern Arizona University (NAU) in Flagstaff.
While attending NAU, Dylan began working part-time at Jimmy Johns Sub Shop and at Snowbowl Ski Resort. Here Dylan fell in love with the mountain and enjoyed skiing and hiking. At Snowbowl, Dylan became a ski-lift operator and loved becoming a "Liftie''.
His playful personality gave him opportunities to work with kids and help in ski-school. Dylan's special love for skiing was seen in his work, his play, and even at home. During the off-season, Dylan would often put on his skis in the living room and dance to music to get excited for winter to come. He would do anything for the thrill of going down the mountain at 60 MPH, forwards and backwards, with his iPhone in hand, documenting his journey.
Most recently, Dylan began working for Green Leaf Pest Control in Surprise, AZ where he became certified in Weed and Pest Control. In this new opportunity, he quickly fell in love with his job. Dylan immediately made friends with his fellow workers and with his customers on his routes. His new job became interesting, fun, and rewarding, so much so, that he learned to accept spiders!
Dylan's passions were virtually unlimited. He loved his animals and enjoyed hiking, longboarding, skydiving, shooting in the desert, fishing, camping, hunting, car shows, traveling, music, singing, dancing, and teaching little ones to have fun in whatever then were doing. Most importantly, Dylan loved spending time with family: his niece and nephew, swimming parties, top golf outings, and family dinners. Dylan just enjoyed TIME - whether it be with family or friends.
Although he had a short life, Dylan will always be remembered for "lighting up" every room when he entered and for hearing his laugh immediately. He was a carefree, out-going, fun-loving person, living his life to the fullest. He will always be remembered as "larger than life" and his spirit will live in our hearts. Whether you find yourself on a soccer field or on a mountain, Dylan's spirit will always be beside you.
He was preceded in death by his grandfather William "Ernie" Walker, cousins Sarah Walker and Jacob Walker all of Rosewood Heights, Illinois; and Brother-in-law, Robert Badini of New River, Arizona.
He is survived by his loving parents, Daniel and Kathy (Kleinert) Walker of Glendale, Arizona. Siblings include Mica (Walker) Badini, Tara (Walker) and Ben Gruler of Phoenix, Arizona, and Ryan Walker of Glendale, Arizona. His nieces: Alyssa (Badini) Coral of Oak Harbor, Washington and Piper Gruler of Phoenix, Arizona. His nephews: Giovanni "Gio" Badini of Spokane, Washington and Benjamin "Wyatt" Gruler of Phoenix, Arizona. His grandparents: Jack and Dottie (Milligan) Kleinert of Roxana, Illinois and Mary (Baalman) Walker of Cottage Hills, Illinois. Aunts and uncles: Kelly (Kleinert) and Scott Slayden of East Alton, Illinois; Karie (Kleinert) and Matt Stultz of Scottsdale, Arizona; Debbie (Walker) and Jim Walker of Rosewood Heights, Illinois and Jane (Walker) and Mike Hanneken of Brighton, Illinois. And many cousins throughout Arizona, Florida, Illinois, Louisiana, North Carolina and Texas.
The family would like to thank all of Dylan's friends in Glendale, Phoenix, Flagstaff, Spain and around the world for giving him a life filled with laughs, compassion, and memories during his short journey. His spirit will live on forever through memories and stories that you have shared with us.
Friends and family are invited to attend Dylan's Celebration of Life service at Christ Church of the Valley (CCV) Peoria campus at 7007 W. Happy Valley Rd, Building 4000 Peoria, AZ 85383 on Thursday, July 27th, 2023, at 2:00PM. A reception will follow at Zipps Sports Grill at 19420 N 59th Ave Glendale, AZ 85308.
Please consider donating to Coach Dylan's Scholarship Fund in conjunction with Arizona Sports Complex https://www.arizonasportscomplex.com/. Dylan's Fund will help expose young children to his love of soccer - allowing Dylan's passion to live on.