Dorothy Holcomb
Wood River | Tuesday, July 25 2023 |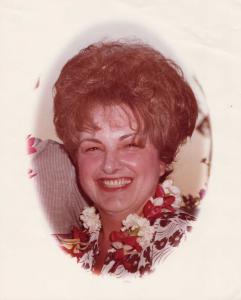 Dorothy Ann (Relic) Holcomb, 98, passed away Tuesday, July 25, 2023. Dorothy was born in Delmar, West Virginia on January 5, 1925. She was the daughter of the late John and Anna Pansic Relic, formerly of Wood River, Illinois and Downey, California.
She married the late Jack C. Holcomb on July 27, 1946, in Wood River, Illinois. Jack passed away in 1977.
Dorothy grew up in Masontown, Pennsylvania and graduated from All Saints High School in 1942. After high school and at the start of WWII, she worked in Cleveland, Ohio on an assembly line packing parachutes and airplane wings for the military. Dorothy was proud to be considered part of the "Rosie the Riveter" generation. She later moved with her parents to Wood River, Illinois and worked at her mother's diner, Anna's Café in Wood River. In 1945 she enlisted in the U.S. Navy Waves and was leaving for Hunter's College in New York when the war ended. She received an honorable discharge.
She married Jack C. Holcomb in 1946 and together owned the Elliott Hotel in Rushville, Indiana before returning to Bethalto to live and raise their three daughters, Joyce, Mona (Bob) Meyers and Barbara.
When Dorothy's three daughters were growing up, her greatest joy was being an active homemaker and sharing with her daughters in their numerous activities which included volunteering as an elementary homeroom mother, Brownie and Girl Scout mother, a supporter of the Piasa Indians Baton and Drill Team, and tennis mother. Dorothy was a member of Lambda Xi Chapter of Beta Sigma Phi Sorority in Alton. She was named Model of the Week by the Wood River Journal.
Dorothy was a member of St. Columbia's Catholic Church in San Diego, California and St. John The Evangelist Catholic Church of North Chelmsford, Massachusetts.
Dorothy had many interests including loving to travel, visiting Disneyland, Las Vegas, Hawaii and the Grotto of Our Lady of Lourdes on the campus of the University of Notre Dame. She was an avid fan of the University of Southern California Trojans football team. One of her greatest thrills was to be able to attend the 2005 National Championship game in Miami and the 2006 National Championship game at the Rose Bowl in Pasadena to root for her Trojans along with attending the Rose Parade. She was an avid reader and enjoyed working on word search puzzles.
Dorothy enjoyed her role as great-grandmother watching her great-grandchildren, Jack, Keira, and Delaney participating in football, cheer, softball, and baseball.
She is survived by daughters, Joyce Holcomb of Chelmsford, Massachusetts, Mona and Bob Meyers of North Chelmsford, Massachusetts and Barbara Holcomb of Phoenix, Arizona. She has one grandson, Lt. Col. Todd Meyers (Lacey Smith) of Chelmsford, Massachusetts and three great grandchildren; Jack, Keira, and Delaney Meyers all of Chelmsford. A sister, Joan Relic Denney of Indio, California, several nieces and nephews, Richard (Judy) Lamm of Bethalto. Reverend Donna (Lamm) Blythe (Tom) of Fairfield, Douglas Holcomb (Dale Wilson) of Chicago, Bradd Holcomb (Wes Putman) of Phoenix, Arizona, and Paul (Lori) Denney of Corona, CA; step grandchildren, Carissa (David) Arnold of Moro, Chad Meyers of Chicago; six step great grandchildren, along with several great nieces and nephews who adored her.
She was proceeded in death by her parents, John and Anna Relic and her husband Jack Holcomb.
A visitation will be held 4 PM – 7 PM, at Elias, Kallal and Schaaf Funeral Home in Bethalto on Thursday, August 3, 2023. Mass will be held 10 AM at St. Mary's Catholic Church in Alton on Friday, August 4, 2023. Burial to follow at Rose Lawn Memory Gardens in Bethalto.
Memorials may be made to: St. John The Evangelist Catholic Church: Tuition Angel Scholarship Fund (115 Middlesex Street, North Chelmsford, MA 01863)
An online condolence and guest book may be found at www.kallalandschaaf.com.
Obit Provided By:
Elias, Kallal & Schaaf Funeral Home