Dorothy Ann Bartee
Bethalto | Tuesday, April 22 2014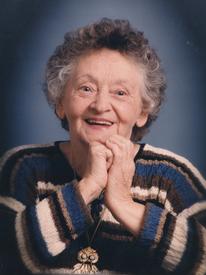 Dorothy Ann Bartee, 94, passed away to be with her Lord and Savior on Tuesday, April 22, 2014 at VIP Manor in Wood River.
She was born November 26, 1919 in Ironton, KY, the daughter of James Thomas and Lillie Mae (Downing) Higgins.
She married John L. Bartee Sr. on October 9, 1938. He preceded her in death. They resided in Alton until moving to Bethalto, where she made her home for over 70 years.
Dorothy was a devoted wife, mother and homemaker. At the age of sixty she worked for a brief time at The Treasure House Resale Shop. She enjoyed plant gardening, sewing quilts and reading books. She also started the first YMCA softball program for girls, under the direction of Don Simpson in Bethalto. As her eyesight and hearing declined, she listened to the radio. She listened to over 876 books on CD, plus country and gospel music and the St. Louis Cardinal broadcast. Dorothy touched the lives of everyone that knew her, especially her neighbors, including the Subick Family, Cox Family and Kaufman Family.
She is survived by a son and daughter-in-law, John "Jack" and Mary Bartee of Bethalto; three daughters and two sons-in-law, Geneva "Ginny" and Elvis Wiseman of Wood River, Linda and Dale Pauley of Meadowbrook and Lisa Sullenger of Bethalto; a daughter-in-law, Barbara Bartee of Bethalto; a special friend of the family, Thomas Subick of Bethalto; fifteen grandchildren and their spouses, Johnny and Tammy Bartee, Tina Buttry, Roger Bartee, Ronnie Bartee, Cathy and Kevin Wright, Kim and David Marcuzzo, Stacey Wiseman, Steven and Amanda Bartee, Sherry and Ronnie Newby, Tammy Darr, Randy Pauley, Angela and Bryan Pruetzel, Rhonda Curtis, Jody and Michael Bozovich and Janell Starkey ; thirty seven great grandchildren and twenty seven great, great grandchildren.
She was preceded in death by her parents, husband, two sons, James Bartee and Leslie Bartee, a granddaughter, Tracy Ryals, a grandson, David Scott and two sisters, Martha Andries and Marchmont Gillihan.
Visitation will be from 4 to 8 pm Thursday, April 24, 2014 at Elias, Kallal and Schaaf Funeral Home in Bethalto. Visitation will continue from 9:30 am until services at 10:30 am on Friday, April 25, 2014 at the Bethalto Church of God with Pastor Jeremy Robinson officiating.
Burial will follow at Upper Alton Cemetery.
Memorials may be made to the Bethalto Church of God.
Online condolences and guestbook may be found at www.eliaskallalandschaaf.com
Obit Provided By:
Elias, Kallal & Schaaf Funeral Home