Donald Pellikan
Jerseyville | Saturday, January 30 2021 |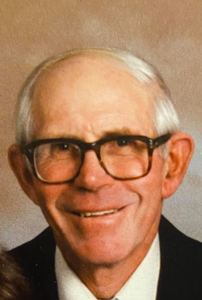 After 96 years of supporting his church, helping his neighbors, and assisting in improving the community by being involved with several organizations, Donald Richard Pellikan died on Saturday, January 30th at Calhoun Nursing and Rehab.
He was born on the family farm in Jersey County, Illinois on August 23, 1924, to Charles and Grace (Schlansker) Pellikan. He graduated in 1942 from Jersey Township High School then attended the University of Illinois and earned a degree in Ag. After graduation, he returned to Grafton to manage the family dairy and grain farm.
He married the former Martha Wehrly on April 6, 1958, and shared 62 years together. Three children arrived to bless this union, Donald Robert (Lydia), Larry Richard (Michele), and Carolyn Martha (Ray). Followed by five grandchildren and two great-grandchildren to make their arrival this coming year.
He was a member of Jersey County Farm Bureau, Town Board of Auditors of Otter Creek Township, Jersey County Fair Board, and the Grafton United Methodist Church. He spent many years serving as an election judge, 4-H leader, and helped with the Otterville School Festival.
He particularly enjoyed showing Jersey Cattle at the local fairs; watching and listening to Cubs baseball games, the University of Illinois football and basketball games as well as going to the local high school football games and both girls and boys basketball games. In addition, he enjoyed going to the family reunion yearly and visiting with the family.
Throughout the years he crossed paths with many people and since then he never met a stranger. He would begin the conversation perhaps telling stories from the past and how he helped his neighbors. He was the type of person who would rather give than receive. He will be dearly missed by many.
In addition to his parents, he was preceded in death by a granddaughter, Rebecca Pellikan as well as several aunts and cousins.
His body has been donated to Logan School of Chiropractic. Please join us for a celebration of life that will be held at Grafton United Methodist Church on Saturday, February 13, 2021, at 11:00 a.m. with his son Rev. Don Pellikan and wife Lydia officiating. A visitation will be held from 10:00 a.m. to 11:00 a.m.
Memorials may be given to the Grafton United Methodist Church, Jersey County Fair Association or Calhoun Nursing and Rehab.
Alexander Funeral Home in Charge of Arrangements
Obit Provided By:
Alexander Funeral Home