Donald Campagna
Alton | Friday, April 26 2013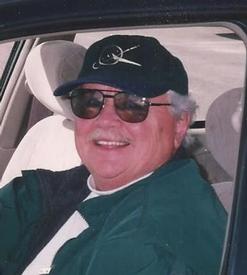 Donald J. Campagna, 75, died at 2:05 a.m. Friday, April 26, 2013 at his home in Alton. Born November 25, 1937 in Alton, he was the son of Joseph Anthony and Elizabeth (Phelps) Campagna and step-mother, Virginia (Stewart) Campagna. Mr. Campagna served in the U.S. Army and was a member of St. Mary's Catholic Church in Alton. He retired from McDonnell Douglas in 1997 as an estimator and before that he managed Alton Motorcycle Sales. He was a member of the Alton-Wood River Sportsman's Club, the Alton Eagles Foe No. 254, and the Alton Moose Lodge.
On December 22, 1962 he married the former Marilyn J. Heffron in Godfrey. She survives. Also surviving are three daughters, Angie Goska (Mike) of Leonardtown, Maryland, Georgia Hawkins (Robert) of Chicago, and Kate Miller (Travis) of Washington, IL, eight grandchildren, Andrew, Adam, and Alex Goska, Emily and Hannah Hawkins, Delaney, Jesse, and Colton Miller, a brother, Bill Campagna of St. Louis, MO, a half-brother, Patrick McClain of Austin, TX, a step brother, Mike McClain of Garland, TX, and three step sisters, Eileen Karon Carman of Columbus, OH, Patty McClain-Evans of Columbus, OH, and Kathy McClain-Glynn of Bernardsville, NJ. He was preceded in death by his parents and a granddaughter, Alexis Campagna Hawkins.
A Rosary service will be held at 5:30 p.m. followed by a visitation from 6:00-8:00 p.m. Tuesday, April 30, 2013 at Gent Funeral Home in Alton. A memorial Mass of Christian burial will be held at 10:00 a.m. Wednesday, May 1, 2013 at St. Mary's Catholic Church in Alton. Father John Luong, OMV will officiate.
Burial will be at St. Joseph Cemetery in Alton.
In lieu of flowers, memorials may be made to the Down Rider Foundation at downrider.org or the National Right to Life at nlrc.org or the 5A's Animal Shelter at fiveas.org.
Online guestbook and information may be found at www.gentfuneralhome.com
Obit Provided By:
Gent Funeral Home