Delmar Reif
Carrollton | Saturday, January 16 2021 |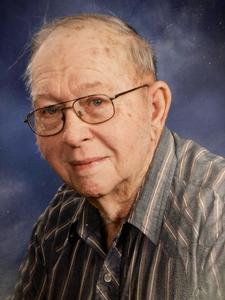 Delmar Reif, 86, of Carrollton passed away Saturday, January 16, 2021 at Boyd Hospital in Carrollton of natural causes. He was born to Frank and Alta Reif in Woodville Township on July 30, 1934. He married Betty Bland on May 17, 1953.
He was a lifelong farmer in Greene County, especially enjoying his hogs. He became a feed dealer with Hubbard Milling Company in the early seventies. He owned feed businesses in Carrollton and Nebo, IL and Bowling Green, MO. He earned the first FFA American Farmer Degree in Carrollton in 1952. This was one of his proudest accomplishments. He truly loved the farming life, along with hunting and playing cards. He was a member of the Eldred Baptist Church.
He is survived by his wife Betty, daughter Deborah (Roger) Campbell, and sons Robert (Cathy) Reif, and Rodney Reif, and a son-in -law Robert McPherson all of Carrollton. He is also survived by grandchildren Timothy Reif, Jon (Ashley) Campbell, Becky (Thomas) Hoaglin,
Daniel Campbell, Samantha McPherson, Jenny Reif, Matthew Campbell, and Ashley McPherson all of Carrollton, Michael (Tobi Miller) Campbell of Greenfield, David (Allison) Reif of Champaign, Greg (Jennifer) Reif of Glen Carbon, and Katie (Spencer Laughlin) Reif of Athens.
Great grandchildren surviving are Konnor Campbell, Brody Reif, Addison Campbell, Hannah Hoaglin, Lucas Hoaglin, Elissa Reif, Harper Hoaglin, Emmalee Reif, Wyatt Campbell, William Reif and Aubrey Garrison. He is also survived by a daughter Marjorie Christian and grandson Jason Christian of Manchester. A niece, Brenda (Don) Ranger and sister-in-law Beverly Reif of Eldred also survive.
He was preceded in death by his parents Frank and Alta Reif, a daughter Darla McPherson, a daughter-in-law Mary Siatos Reif, a brother Sidney Dale Reif, a nephew Karl Dale Reif, and four infant siblings before he was born.
Private funeral services will be held at the Eldred Baptist Church. A public graveside service will be held at 2 P.M. on Wednesday Jan. 20, 2021 at the Eldred Memorial Gardens Cemetery. Memorials may be given to the gas card program at Boyd Hospital in Carrollton. Airsman-Hires Funeral Home in Carrollton is in charge of arrangements. Condolences may be left online at: www.airsman-hires.com.
Obit Provided By:
Airsman Hires Funeral Home