Delbert Friedel
Edwardsville | Saturday, April 30 2022 |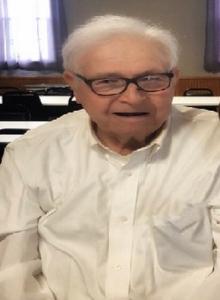 Edwardsville - Delbert "Del" P. Friedel, 92, of Edwardsville, passed away at 2:25 a.m., Saturday, April 30, 2022, at Anderson Hospital in Maryville, IL.
Del was born on May 18, 1929, in Golden Eagle, IL. He was a son of the late Paul H. and Eileen M. (Arnold) Friedel.
He and the former Vera Mae Klug were married on Nov. 7, 1953, in Mitchell, IL. She passed away on Nov. 14, 2011.
Del was a Farmer and a Carpenter, the Owner/Operator of Friedel Construction Company, and was a member of Local #92 Carpenters Union for 69 years.
Del was a U.S. Army Corporal Veteran of the Korean War.
He was also a member of the American Legion Post #685 in Brussels, IL.
Survivors include one daughter, Debra Ann & Richard Magary of Edwardsville; one son, Michael & Denise Friedel of Edwardsville; ten grandchildren, Melanie & Brian, Sarah & Nathan, Matthew, Aaron & Terrah, Jacob & Brooke, Molly, Patrick & Altie, Theresa, Heidi, Christine; three great-grandchildren, Logan, Jordan and soon to be born great-granddaughter; two brothers, Larry & Mary Fridel of Golden Eagle, Lee & Janet Friedel of Bethalto.
Besides his wife and parents, Del was preceded in death by a sister, Eva Stumpf; three brothers, John, Wayne, and Ronald Friedel
A life celebration will begin at 9:00 a.m., Monday, May 9, 2022, at St. Boniface Catholic Church in Edwardsville where Mass will begin at 10:00 a.m. Father John Friedel will officiate.
The burial will be at Rose Lawn Memory Gardens in Bethalto.
Memorials have been designated to the American Legion Post 685 in Brussels and the American Cancer Society.
Gray Funeral Home in Wood River is in charge of arrangements.
Condolences at www.grayfuneralhomeinc.com
Obit Provided By:
Gray Funeral Home