Dawnya Laing
East Alton | Sunday, January 8 2023 |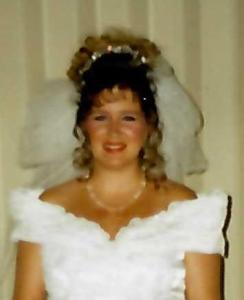 Dawnya Kay Smith Laing, 53, of O'Fallon, MO, passed away Sun. Jan. 8, 2023 in O'Fallon.
She was born Mar. 8, 1969 in Sylmar, CA.
Dawnya was crowned Ms. Calhoun County in 1987. She helped participate in the fair, styling hair for all the future participants. She enjoyed cooking at Calhoun Elementary, was an active EMT for over a decade and cherished her time at the Hardin CilaHome. She worked as a cocktail waitress in the early 90's and became an active member in the Colorado Belle Alumni, visiting family and friends yearly in Laughlin, NV. She enjoyed her time with her children and grandchildren, canoeing every year in Huzzah Valley and holidays and card nights at her Aunt Jena and Uncle Pat's home. She also enjoyed Chinese food and getting Red Lobster yearly with her husband and birthday twin, Jason.
She and Jason Laing married in 1995 in Hardin, IL and he survives.
In addition to her husband, she is survived by children: Austin (Rose) Laing of Carrollton, IL, Jonathan (fiancée: Gracie Pohlman) Laing of Eldred, IL, Mathew (Cindy) Laing of CA and Ashley (Chris) Hanlon of Alton, IL; brother: Scott (Tomomi) Smith of Godfrey, IL; sister: Carolyn (Danny) Stanley of AZ; grandchildren: Mason Laing, Cooper Hanlon, Case Hanlon, Presley Hanlon, Patrick Hanlon and Madison Laing; nephews and nieces: Bobby Stanley, Brandon Stanley, Amy Smith and Joseph Smith; mother-in-law: Kathy Barbee; father-in-law: Kurt Laing; aunts and uncles: Pat (Jena) Sievers, Jeff Smith, Susan Smith, Larry (Shirley) Smith, Tom (Sue) Smith and Pam Smith; cousins: Chad (Steph) Sievers, Landon Sievers, Alana Sievers, Carson Sievers, Michael (Rachel) Smith, Jeffery Smith, Danielle Smith, Jake Smith, Justin Sievers, Tim Smith, Vincent Smith, Lorraine Echele, Scott Coughlin, Connie Ritter, Sherlene Wallace, Mark Bridges, Bill Smith, Derek Smith, Jeff Smith and David Smith; and her beloved furbaby: Dallas.
Dawnya was preceded in death by her parents: Jack and Jill Smith; brother: Gary Lynn Mallory; grandparents: Homer and Inell Smith; uncle: Jackie D. Smith; great-grandfather: John Smith, birth father: Gary Mallory; grandparents: Geraldine and George Smith; uncle: Kim Smith; uncle: Denny Smith; and aunt: Linda Smith.
The family will hold a celebration of Dawnya's life at 5:00 p.m. Sat. Jan. 28, 2023 at Mt. Hope in Michael, IL.
Memorials may be given to the family for donation to a charity of their choice.
Online information and guestbook through Paynic Home for Funerals may be found at www.paynicfh.com.
Obit Provided By:
Paynic Home for Funerals