David Winfree
Williamson | Saturday, April 3 2021 |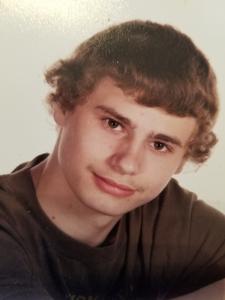 David James "D.J." Winfree, 25, of Williamson, IL, died at his residence on Saturday, April 3, 2021 at 4:10 pm. He was born August 24, 1995, in Alton, IL to Chris Winfree & Laurie (Eldridge) Winfree.
He was a locksmith for Monday Security Corp. David was always such a great mind. He always said he had a "uniquely expansive imagination" He liked to create/ invent, play music, explore new places, may it be driving on a new road or going to a place he has never been, helping people (this was one of his main things/loves in life to do), he enjoyed meditation and science. He was riki 2 certified ( this was one of the ways he would help people with stress or pain). He loved being active like running, exercising, and just going out spontaneously. He loved reading books and cooking. He came up with his own Asian recipes like 3 cup chicken, beef lo mein, and peanut chicken. He was a great friend and listener. He loved computers and anything with technology to the point he built his own computer and was self-taught in some programming. He was a great teacher. He could talk about just any subject and try and help you understand it. He was an entrepreneur and had his own business Mystic Crafts. He made epoxy resin cast and wire-wrapped jewelry. He enjoyed painting. Overall just a great person/lover/friend/brother/son for anyone who ever met him.
He is survived by his father, Chris Winfree of New Douglas, IL, mother, Laurie Winfree of Bunker Hill, IL, fiancée, Jordon Boetta, siblings, Shasta Lievers of Interlachen, FL, Chris Winfree of Bunker Hill, IL, grandmother, Lucille Eldridge, niece, Kamea Lievers, aunts and uncles, Diana Chestnut, Donna "Jeanne" Hancock, Sandy Eddinger, Dale Eldridge, Gary Eldridge, Steven Eldridge, fiancée's parents, Windy and Anthony Boetta, fiancée's sisters, Katy Boetta and Alexis Boetta.
David was preceded in death by his grandfather, Donald Eldridge and aunt, Kim Parnell.
Friends may call on Sunday, April 11, 2021 at Kravanya Funeral Home in Bunker Hill, IL from 12:00 pm until 2:00 pm. Memorial services will be on Sunday April 11, 2021 at Kravanya Funeral Home, Bunker Hill, IL at 2:00 pm. Memorials are suggested to wishes of the family.
Anyone wishing to send an online condolence may do so at www.kravanyafuneral.com
Kravanya Funeral Home, Bunker Hill, IL is in charge of the arrangements.
Obit Provided By:
Kravanya Funeral Homes