David Gammaitoni
Alton | Thursday, June 8 2023 |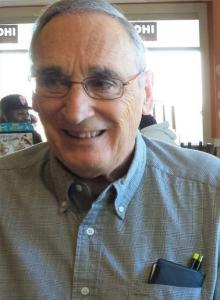 David LaMarr Gammaitoni, 80, passed away at home holding his beloved wife's hand at 12:58 am on Thursday, June 8, 2023, after a courageous battle against Dementia, Atypical Parkinson's, congestive heart failure, and polymyalgia rheumatica.
Also known as Dave, he was born July 3, 1942, in Alton to the late Sarafino Gammaitoni and Alma "Wink" Forbes Auston. Raised in Grafton, he graduated from Jerseyville High School and enlisted in the US Air Force, serving from November 1961 to November 1965 with a specialization in Pneudraulics.
After finishing his service, David returned to the area and married the former Carolyn Heckman, who proceeded him in death in 1993. In 1997, David married the former Mary (Maher) Clouse, and she survives.
A jack-of-all-trades and master of most of them, David could fix almost anything. Throughout his career, David worked for a variety of companies, including Canteen, Colonial Bread, and SuperValu in several maintenance positions, specializing in HVAC and ammonia cooling systems. After retiring in October 2007, he enjoyed working on projects around their home and for others, especially lending his vast knowledge in air-conditioning, which was invaluable during the sweltering summer months.
For the last few years, David enjoyed participating in the Rock Steady Boxing program at Senior Services Plus (SSP) for individuals battling various forms of Parkinson's.
In addition to his wife, David is survived by his children and stepchildren: Dana Gammaitoni of Alton, Chris Gammaitoni (Nyssa) of Godfrey, Candi Clouse-Guccione (Tom) of Alton, & Aaron Clouse of Springfield, IL.
Additional survivors include his grandchildren Danielle Togtokhsuren (Tsend), Katelin Esarey, Lizzie Bartels, Crysta Ridenour, and Victoria, Aiden, Jonathan & Maria Gammaitoni, along with his great-grandson Nolan Togtokhsuren. He is also survived by his younger sister Jan (Doug) Welch of Norwich, CT, sister-in-law Karen Auston of Alton, IL, and sister-in-law and brother-in-law Ruth & Bill Albrecht of Godfrey, along with many nieces, nephews, family, and friends.
In addition to his parents and first wife, David was preceded in death by his older sister and brother-in-law Charlene and Bill Aery and younger brother Jeffrey Auston.
David's family would like to extend special thanks to the various members of their BJC Home Hospice team, especially Tina, Melissa, and Michelle. Additionally, they would like to thank their friends and family for providing support and care throughout the last few months, especially to Candi, Nyssa, Ruth, and Julie. They would also like to thank their neighbors, Eric and Kristy, CJ and Rita, & Brad and Allison.
Gent Funeral Home is serving the family. Visitation is on Sunday, June 11, 2023, from 4:00 to 7:00 pm. The funeral service is at 11:00 am on Monday, June 12, 2023. A private burial will be held for the family at a later date.
In lieu of flowers, the family requests donations in David's name to the Rock Steady Boxing Program at SSP at 2603 N Rodgers Ave in Alton. Online guestbook and information may be found at www.gentfuneralhome.com.
Obit Provided By:
Gent Funeral Home