Danny Holmes
Granite City | Tuesday, December 21 2021 |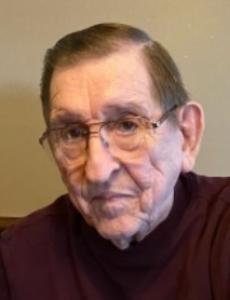 Danny D. "Dan" Holmes, 87, of Granite City, Illinois passed away at 5:38 a.m. on Tuesday, December 21, 2021, at Anderson Hospital in Maryville with his wife by his side.
He was born January 21, 1934, in Birch Tree, Missouri, a son of the late Rolla Milton and Madeline (Strain) Holmes. He married Evelyn S. (Wilson) Holmes on December 24, 1963, in Granite City and she survives. He retired in 1996 from Granite City Steel after 43 years of dedicated service as a steelworker. He proudly served his country with the United States Army. Dan was a faithful member of Calvary Life Church in Granite City, loved reading and studying the Bible, and served in Royal Rangers as a commander for many years. The highlight of his week was listening to Jimmy Swaggart and was a fan of the St. Louis Cardinals baseball. He loved the outdoors, enjoyed nature, and watching birds. He cherished his family and will be remembered for the love and special time shared with his family and friends.
In addition to his beloved wife of 58 years, he is survived by a daughter and son-in-law, Christina and Jeff Wiles of Granite City; a son and daughter-in-law, Daniel and Lori Susanne Holmes of Eaton, Ohio; six grandchildren and their spouses, Meagan and Jacob Seemiller, Jeffrey and Stephanie Wiles, Jordan Wiles, Elijah Cunningham, Isaac Cunningham and Isaiah Cunningham; one grandson on the way, Ezra Holmes; two great-granddaughters, Hadden and Layna Wiles; a brother, Frank Holmes; many nieces; nephews; other extended family and friends.
In celebration of his life, visitation will be at Calvary Life Church, 4650 Maryville Road in Granite City on Monday, December 27, 2021, from 5:00 p.m. until 8:00 p.m. and will continue on Tuesday, December 28, 2021, from 9:00 a.m. until time of funeral service at 10:00 a.m. with Reverend Gary Wilson officiating. Burial with military honors will follow at Lakeview Memorial Gardens in Fairview Heights. Memorials may be made to Calvary Life Church. Irwin Chapel of Granite City is in charge of arrangements. www.irwinchapel.com
Obit Provided By:
Irwin Chapel Funeral Home