Daniel Sr.
Wood River | Friday, March 12 2021 |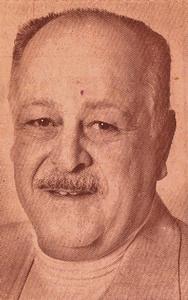 Daniel Merli Sr., 89, of Wood River, IL passed away Friday, March 12, 2021 at St. Anthony's Medical Center in Alton, IL.
He was born March 29, 1931 in New York City, NY to Domenico and Giovannia Merli. He served his country in the United States Air Force. After being honorably discharged, he worked as a contractor and owned and operated Gerardi's Restaurant in Roxana, IL and The Stallion in Wood River, IL. He married Tena Main on January 13, 1990.
He is survived by his wife Tena Merli of Wood River, IL; two sons Daniel Merli Jr. (fiancé Marsha) and Dennis Merli of East Alton, IL; daughters Kathi Spears of St. Louis, MO, Donna (Eric) Ripp of Wildwood, MO, Jenny (David) Dawson of St. Louis, MO; step-children Andrew Main of Wood River, IL, Jason (Traci) Main of Rosewood Heights, IL and Jeremy Bryant of Wood River, IL; eleven grandchildren Christopher (Angie), Jeremy (Leslie), Amber (Philip), Danielle (Daniel), Stephanie, Dakota (Rosemary), Evan, Jacob, Deidre, Brandon and Joshua (fiancé Emily); seven step-grandchildren Jessica (Andrew), Ragen, Kanbron (Tiffany), Keeton, Andrew Jr. (Abigail), Ketra (Shawn) and Gabi; ten great-grandchildren and eight step-great grandchildren; former daughters-in-law Lori and Deborah Merli, former son-in-law, Jeffrey Quinn; former wife, Stella Merli and numerous loving nieces and nephews.
He was preceded in death by his parents and a sister, Jill Fox.
Visitation will be held from 4 p.m. to 7 p.m. Wednesday, March 17, 2021 at Holy Angels Catholic Church in Wood River, IL. A Mass of Christian Burial will be held 10 a.m. Thursday, March 18, 2021 at Holy Angels Catholic Church in Wood River, IL with Father Don Wolford as Celebrant. Burial will follow at Valhalla Memorial Park in Godfrey.
In lieu of flowers, memorials can be made to the St. Jude Children's Research Hospital.
An online guestbook is available at www.paynicfh.com
Obit Provided By:
Paynic Home for Funerals