Choice Shepperd
Alton | Thursday, December 16 2021 |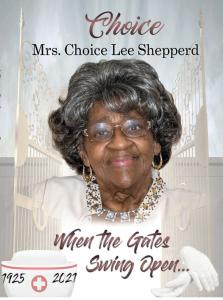 Mrs. Choice L. Shepperd was born November 1st, 1925 in Alton Illinois to the union of the late Isaac Smith and Pearl Smith (Griffin). Mrs. Shepperd attended the Alton Public School system and was a lifetime member of St. James Baptist Church, where in her earlier years she served as a member of the choir and was an active nurse on the usher board. She also served as an Alton Township election judge for 15 years. She was a devoted daughter, wife, mother, aunt, grandmother, great-grandmother, and great-great-grandmother.
On Thursday, December 16, 2021, Mrs. Shepperd answered the Lord's call to receive eternal rest and peace with her family by her side.
She is preceded in death by her parents; her beloved husband of fifty-five years, Charles Shepperd, Sr.; three brothers, two sisters, her daughter; Charlotte Shepperd Wilburn; her grandson, Charles Shepperd III, and her godson, Tom Caffey.
Mrs. Choice L. Shepperd is survived by her children; Henry M. (Juanita) Smith of Alton, Illinois, Karen J. Webster of Alton, Illinois, Charles S. (Carmencita) Shepperd of Greensboro, North Carolina, Michael A. (Hutchins) Foster-Shepperd of Los Angeles, California, Dr. Tracy (Andri) Webster-Cooley, of Alton, Illinois and Rita Shepperd Love of Alton, Illinois. She also leaves behind 15 grandchildren, 19 great-grandchildren, 10 great-great-grandchildren, as well as a host of nieces, nephews, and friends; including Vernetta Caffey; her goddaughter, Kim Smith; her daughter from another mama, Delores Kaiser and her son/nephew, Jesse L. Jemison, Jr.
Visitation Thursday, December 23, 2021, from 10:00 A.M. until time of service at 11:00 A.M. at Greater St. James Baptist Church 2016 Belle Street Alton, Illinois 62002 where Dr. Don Sanford is Pastor.
Burial to follow at Upper Alton Cemetery in Alton, Illinois.
Obit Provided By:
Cathy M Williams & Sons Funeral Home