Chloe JoLynn Murphy
Carrollton | Saturday, September 4 2010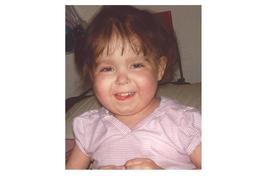 Princess Chloe JoLynn Murphy, 5, died at 12:12 a.m, Saturday, September 4, 2010 at Cardinal Glennon Hospital in St. Louis after a long, but determined battle.
Our little angel has touched so many people in her short life, but it has been the most wonderful and precious gift to all of us. She has showed us all how precious life can be, and not to take everything for granted. Our princess is now out of her pain and suffering and is now with the Lord, but will remain in our heats for our lifetime.
She came into this world on April 2, 2005 at St. Mary's Hospital in Richmond Heights, Mo., and is the daughter of Joshua A. & Chelsey R. (Barnes) Murphy.
Also surviving are a sister, Jordan Renee Murphy; and her twin brother, Jace Allen Murphy both of Carrollton; her grandparents, Richard & Yvonne Harp of Carrollton, Vera Murphy of Jerseyville, Doris & Raymond Thompson of Fieldon, Dolores Harp of Roodhouse, Helen Barnes of Carrollton, Bennie & Donna Morris of Jerseyville, Randy & Amy Morris of Alton, and Kim Murphy of Missouri. She is also survived by her aunts & uncles, Tabitha Barnes, and her fiance' Darwin "Alex" Alexander of Carrollton, Nikki McMonigle of Jerseyville, and Leighton Harp of Roodhouse; along with many more aunts, uncles, cousins who loved her dearly.
She was preceded in death by her grandparents, John "Bill" Murphy, Ronald Barnes, Merle Harp, Leo Barnes, Delbert & Mary Hardwick, Joseph Hunter I, Dewey & Minnie Barnes; and an uncle, Joseph Hunter II.
Visitation will be from 4 to 8 p.m. Wednesday at the Crawford Funeral Home in Jerseyville, where funeral services will be conducted at 1 p.m. Thursday.
Burial will be in the Oak Grove Cemetery in Jerseyville.
Memorials may be given to her family in care of the funeral home.
Obit Provided By:
Crawford Funeral Home