Charles Heitz
Godfrey | Saturday, April 9 2022 |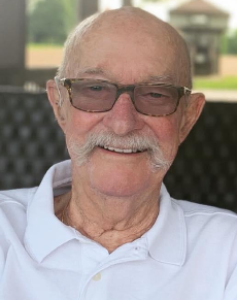 Charles Joe "Chuck" Heitz passed away on April 9, 2022, at the age of 99.
Chuck was born January 30, 1923, in Oshkosh, Wisconsin to Joe and Eileen (Schmid) Heitz. He graduated from Fond Du Lac, Wisconsin High School in 1940 and continued his education at Oshkosh State Teachers' College in Oshkosh, Wisconsin.
He married Maryella (Haffey) Heitz on December 30, 1943, in Oklahoma City, Oklahoma. She preceded him in death after seventy-two years of marriage. To this union, two daughters, Kathie (Heitz) Woeltje (Jim) and Susan (Heitz) Zappulla (Frank), and Joe Charles Heitz (Julie) were born.
Chuck served in the U.S. Navy during World War II. After this, he started his career in the optical industry. He opened his business, Heitz Optical, in Alton, Illinois in 1956. The business still thrives today.
Through the years he constantly educated himself on advancements in the industry. He was an early member of the Contact Lens Society of America. His association with organizations involved with contact lenses and the optical industry led him to be a pioneer in the local industry. Chuck worked until the end; each day offering service and quality to his customers. He was surrounded by employees whom he treated with warmth and respect. He loved when people reflected on their lifelong association with him and Heitz Optical. Chuck was proud that the business is run by his son, Joe Heitz, and grandson, Drew Heitz Rinacke.
Although being with family was his first love, he loved playing golf, hunting, fishing, traveling, and playing cards with friends.
Chuck is preceded in death by his parents, his wife Maryella (Haffey) Heitz, a daughter, Susan (Heitz) Zappulla, a sister, Margaret (Heitz) Schweiger, a son-in-law Jim Woeltje and two great-great-grandsons.
Survivors include his daughter Kathie (Heitz) Woeltje of Jackson, MO, son Joe Heitz (Julie) of Godfrey, IL, a sister Joleen (Heitz) Hochrein of West Bend, WI, and a son-in-law Frank Zappulla of Kill Devil Hills, NC.
Also surviving are ten grandchildren Drew Rinacke of Alton, IL, Bethany Rinacke of Cape Girardeau, MO, Ryan Rinacke (Melissa) of Marble Hill, MO, Molly Wilhelm (Jason) of Jackson, MO, Maria White (Adam) of Mooresville, NC, Tony Zappulla of Clayton, NC, Anna Zappulla of Nagshead, NC, Carley Hartig (Adam) of St. Louis, MO, Caitlin Stutz (Johnny) of Dorsey, IL, and Catherine Kratz (Ben) of St. Louis, MO, sixteen great-grandchildren, and four great-great-grandchildren.
Cathy Short, a special friend, also survives.
Visitation will be held Monday, April 18, 2022, from 4:00 pm until 8:00 pm at Elias, Kallal, and Schaaf Funeral Home in Godfrey.
Funeral services will be held Tuesday, April 19, 2022, at 10:00 am in the funeral home chapel.
Burial will take place in Valhalla Memorial Park with Military Burial Rites provided by VFW #1308.
In lieu of flowers, memorials may be made to Children's Hospital of St. Louis or Safehouse of SE Missouri P.O. Box 1167 Cape Girardeau, MO 63702 Memo: Direct Client Services
Online condolences and guestbook may be found at www.eliaskallalandschaaf.com.
Obit Provided By:
Elias, Kallal & Schaaf Funeral Home