Charles Eastman
Alton | Wednesday, April 7 2021 |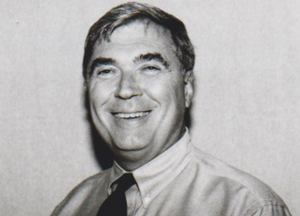 Charles Dana Eastman, Jr., a proud life-long citizen of Alton, died Wednesday, April 7, 2021, a week shy of his 86th birthday. Surrounded by loving family, Dana was enjoying the familiar view of leafy trees on the sunlit hill behind his home of nearly 50 years when he said good-bye to his long, generous, and well-spent life. Born on April 13, 1935, at St. Joseph's Hospital in Alton, Dana Eastman grew up with his parents and younger sister in a house on Bluff Street.
He graduated from Alton High School in 1952, earned a B.S. from the University of Illinois in 1957, and a law degree from Vanderbilt University Law School in 1963. While in college, Dana was several times awarded academic honors and was a member of Skull & Crescent, Alpha Kappa Psi, Scabbard & Blade, and served as an officer of Tau Kappa Epsilon fraternity. In law school, Dana was a member of Phi Delta Phi and worked with the Legal Aid Society. Dana was also a member of ROTC and, in the early 1960s, served as a 1st Lieutenant in the U.S. Army Reserves, working in the guided missile program at Fort Bliss, TX, where he received an Army Commendation Medal. In 1963 Dana Eastman returned to Alton and worked in the Schlafly, Godfrey, and Fitzgerald law firm. Within a few years, he joined the Thomas, Mottaz & Eastman law firm, where he remained a partner until his retirement in 2014. In addition to his law practice, Dana was a member of the Rotary Club and the Jaycees, and a volunteer with Specialized Services and the Multiple Sclerosis Society. A highlight of his career was representing both the Alton School District and the Hayner Public Library District. Dana also served as Corporation Counsel and Deputy Corporation Counsel for the City of Alton during two mayoral administrations; as a Special Assistant Attorney General for the State of Illinois for Pollution Control and Consumer Protection; and as Assistant States Attorney for Madison County.
Dana loved the practice of law for the ability it gave him to help people and is remembered by his family, friends, and grateful clients not only for his expertise, but for his warm-hearted commitment of time and energy to others. Dana Eastman was a loving father, son, brother, uncle, cousin, and brother-in-law. He returned to Alton to help care for his father, who suffered from multiple sclerosis, and saw his mother safely to the end of her long life. He was devoted to his wife, Susan Howarth Eastman, and their three children: Marynell Eastman, C. Dana Eastman III, and David Eastman. He loved watching his children grow up and threw himself into their activities as a dedicated Indian Guides Mentor, baseball coach, and soccer coach. His children count themselves lucky for the abiding kindness and love he always offered them, as well as for his example of a life very well lived. Dana Eastman was a lifelong member of St. Paul's Episcopal church, where he and his wife will be interred together, symbolizing their long marriage and lasting romance of 58 years. He was preceded in death by his wife, Susan Howarth Eastman; his parents, Charles Dana Eastman, Sr., and Virginia Corbett Eastman.
He is survived by his daughter Marynell Eastman, and sons C. Dana Eastman, III (Michelle), and David William Eastman; and his sister Nina Eastman Faye (Bob) and her family. His wife's family adored Dana all his life and join his children in deeply mourning his passing. The Eastman family is planning a memorial gathering in Dana Eastman's honor at some point in the near future when it is safer to gather in a large group. In lieu of flowers, donations may be made to St. Paul's Episcopal Church, Alton, Illinois, or to the Mary and Nelson Howarth Scholarship at the University of Illinois in Springfield.