Catherine Platto
Winder, GA | Thursday, February 3 2022 |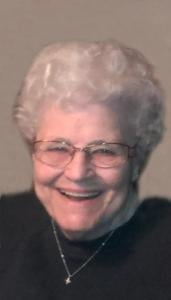 Catherine Mae Platto, 97, formerly of Alton, died at 8:34 AM on Thursday, February 3, 2022, at Winder Healthcare in Winder, Georgia. She died peacefully of natural causes, having lived a rich and full life.
Known to her friends as "Babe", she was the youngest of 4 siblings. Born in Jerseyville, she was the daughter of the late James and Nell (Houze) Arter.
She married Walter Myron Platto of Kane on Oct 11, 1945, in Jerseyville. He preceded her in death on August 9, 1990. After moving to Alton soon after marriage, Catherine lived there for over 70 years, moving to Georgia in 2015 to be with her remaining family.
Also preceding her in death were brother Ralph Arter and sister Maurietta Weller, both of Jerseyville, as well as brother Charles Arter of Godfrey.
Predominantly a housewife, she was also a former employee at Olin Brass, as well as a cashier for the local elementary school. Her passions were in caring for her beloved husband and son throughout her life, as well as dancing, sewing, and quilting.
Surviving are a son and his wife, Paul and Vanessa Platto of Winder, Georgia; a granddaughter Elizabeth Griffin, also of Winder; a grandson Rev Nathan Platto of Athens, Georgia, and 6 beautiful great-grandchildren.
Visitation will be held on Saturday, February 12, 2022, from 10 a.m. until the time of funeral services at 12 p.m. at Crawford Funeral Home in Jerseyville. Her grandson, Rev Nathan Platto will officiate. Burial will immediately follow at Oak Grove Cemetery in Jerseyville.
In lieu of flowers, memorials may be given to Phoenix Community Church in Athens, Georgia.
Memories may be shared with the family by visiting www.crawfordfunerals.com
Obit Provided By:
Crawford Funeral Home