Catherine Evans
Glen Carbon | Monday, September 27 2021 |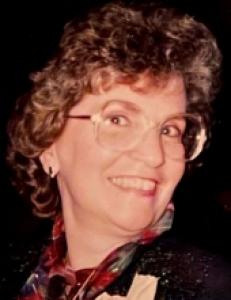 Catherine June Evans, 75, of Glen Carbon, IL (formerly Granite City), born June 13, 1946, passed away surrounded by family on Monday, September 27th at her home in Glen Carbon.

Cathy was a talented seamstress. She owned and operated her own drapery business from home for nearly 30 years, simultaneous to raising her children and babysitting grandchildren. After retiring she continued to sew for friends, family, and charity. Baking was another favorite pastime. Together with her husband of 43 years they created a close-knit family and welcoming home. Cathy loved to spend time at home and relished when it was filled with family and friends. She never stopped being generous with her time and talents.
She was preceded in death by her beloved husband, David Evans, her parents Charles and Catherine June (Stack) Riggins, her brother Charles Riggins of Loda, IL, Paul Joe Riggins of Grant Fork, IL, John Riggins of Edwardsville, IL, and William Riggins of Collinsville, IL.
Surviving are her sisters Mary Lou (Riggins) Davis of Tamms, IL, Patricia Riggins of Edwardsville, IL; her brother Kevin Riggins of Edwardsville, IL; her sons David (Debbie) Evans, of Edwardsville, IL, Paul Evans of Springfield, MO, Tim (Loretta) Evans, of Glen Carbon; daughters Angela (Tim) Bramstedt of Glen Carbon and Maggie (Paul) Linden of Minneapolis, MN; ten grandchildren: Brad Evans, Kyle Evans, Kameron Evans, Kassidy Evans, Sam Bramstedt, George Bramstedt , Frederick Bramstedt, Avery Linden Carlson, Cora Linden, and Monty Linden; two great-grandchildren: Lou Evans and Faye Evans. Cathy touched so many lives with her big heart. She was a loyal, loving, and supportive daughter, sister, wife, mother, and grandmother. She will be so incredibly missed.

Condolences may be sent to the family home prior to Sunday, October 3rd, or to her surviving family members. Donations in her name can be made to St. Jude Children's Research Hospital. Burial will be at Sunset Hills Cemetery located at 50 Fountain Drive in Glen Carbon, IL. Private funeral services will be held by Irwin Funeral home at the graveside on Sunday, October 3rd at 11:00 a.m.
Obit Provided By:
Irwin Chapel Funeral Home