Carolyn Spry
Wood River | Sunday, March 7 2021 |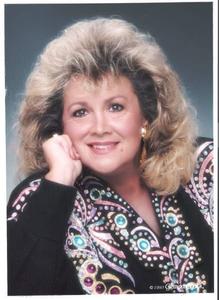 On Sunday, March 7, 2021 Carolyn Sue Carstens Spry, passed from this life into eternity.
Sue was born in Cairo, IL on January 21, 1944.
A wife and mother of 3 boys, Sue loved her family. She was an incredible cook, an avid shopper, and a hunter of bargains; in the early years, she even made many of the family's articles of clothing. She had a generous spirit, giving to many who had need, often making people feel special, as though they were a part of her own family. She could be flamboyant and expressive, or she could be relaxed and laid back, depending on the people who surrounded her.
Called into the ministry with her late husband Gary Carstens, Sue was one of the co-founders and first members of Enjoy Church (formerly New Testament Fellowship Church), located in the St. Louis Metro East area. After decades of ministry together, she retired from full time ministry. She loved God's word and had a passion to praise and worship her Lord Jesus Christ. As an evangelist, she was always inviting people to church and introducing others to the saving grace of Jesus.
After Gary's passing, she married Don Spry and continued to enjoy her retired years. Her adventurous and entrepreneurial spirit helped her take on new challenges and risks without the fear of failure, and she carried this attitude throughout her life. She loved to travel, particularly destinations near the water, as one of her favorite places on earth was the beach. Her final trip was her ultimate retirement to the ultimate destination, her home in Heaven.
Sue was preceded in death by her parents Harry Ray Chester and Mary Grace (Bennett) Chester, her husband Gary W. Carstens, daughter Mary Ann Carstens, and many precious and aunts, uncles, and family members.
She is survived by husband Don Spry of Wood River, IL; Maternal Aunt Hazel (Bennett) Vaughn of Mounds, IL; Siblings, Raydine (Bill) Alexander of Edwardsville, IL and Kym Brown of Edwardsville, IL; Children, Daren (Laura) Carstens of Edwardsville, IL, Christopher (Mari Beth) Carstens of Alton, IL, Brian (Jennifer) Carstens of Rosewood Heights, IL, Michelle Spry of Saucon Valley, PA, Stephen (Alida) Spry of Quakertown, PA, Grandchildren; Tiffany Elliott, Cami Carstens, Adam Carstens, Joel Carstens, Cassidy Carstens, Amanda Carstens, Abbi Dadon, Tyler Carstens, Brendan Carstens, Colton Carstens, Amber Carstens, Ashley Carstens, Gage Young, Dalton Brito, Xander Brito-Carstens, Rachel Rutherford, Kaitlyn Rutherford, Connor Rutherford, Selena Spry, Jared Spry, Tatiana Spry, and Callie Spry; Great Grandchildren, Xaden, Sofia, Honor, Asa, Lenora, Malaki, Brian James, Alora, Ari; Nieces & Nephew Jill, Deena, Kayla and Jeff; numerous cousins, great nieces and nephews, and a multitude of dear family members and friends, all of whom she treasured immensely.
A Celebration of Life service will be held on Thursday, March 25 at 7:00 pm (with a preceding time of fellowship at 6:00 pm) at Enjoy Church, located at 3303 Homer M. Adams Pkwy in Alton, Illinois.
Memorial donations may be made to Enjoy Church and sent to the church address, 3303 Homer M. Adams Pkwy in Alton, Illinois.
Obit Provided By:
Lake View Funeral Home and Memorial Gardens