Carolyn Wallace
Jerseyville | Wednesday, December 7 2022 |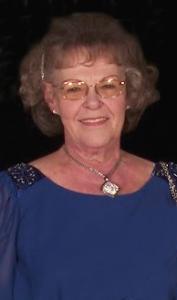 Carolyn (Coop) Wallace, 78, died at her home at 5:40 a.m. on Wednesday, December 7, 2022, surrounded by her loving family after a brief battle with cancer.
She was born in Jerseyville, Illinois on March 12, 1944, the daughter of Harry Coop and Margaret (Nix) Coop.
As a young girl, she enjoyed spending time at her dad's antique shop and at the family museum. As a young woman, she opened a beauty shop in Jerseyville and later helped with the family business, Coop's Jewelry.
She will be remembered as a devoted mom, sister, daughter, grandmother, great-grandmother, friend, and aunt. She spent hours perfecting recipes that family members savored and loved decorating friends' and family members' homes.
Carolyn never met a stranger and enjoyed making everything around her fun and beautiful. Her family will greatly miss spending hours with her, sharing stories on her beautifully adorned patio and in her carefully curated kitchen. She was known for having her family and friends doubled over in laughter because of her great wit and humor. Carolyn enjoyed hosting, making every holiday magical (especially Christmas), fishing, interior design, and DIY projects. She adored her lady lunches and of course, her beaus Elvis and Tom Jones.
She formerly married Michael House Wimmersberg, and together they raised three children, Michael Coop Wimmersberg, Sheryl Molloy (Steve) Pegram, and Ellen (Jeffrey) Suttles.
Surviving is her stepdaughter Gail (Mike) Niehaus, her daughters Ellen (Jeffrey) Suttles and Sheryl Molloy (Steve) Pegram, and grandchildren Carolyn Molloy, Britney (Chris) Opperman, Sheariah Pegram, Dylan Suttles, Sydni Suttles, her great-grandchildren Thornton Opperman, Endora Spencer and Dalton Simpson, her adoring brother Gordon Coop, and several nieces and nephews.
Carolyn was preceded in death by her parents, Harry and Margaret Coop, her sister Margie Ann Coop, her son, Michael Coop Wimmersberg, her niece Maggie Keene, her granddaughter, Mindy Smith, great-granddaughter, Clara Simpson and sister-in-law, Dorothy Coop.
Memorial Visitation will be held from 4 p.m. until the time of Memorial Service at 6 p.m., Thursday, December 15, 2022, at Crawford Funeral Home in Jerseyville.
Private interment will take place at Oak Grove Cemetery in Jerseyville.
For those desiring, memorials may be given to an organization of one's choice.
Memories may be shared with the family by visiting www.crawfordfunerals.com.
Obit Provided By:
Crawford Funeral Home