Carole Ann (Brown) Taylor
Rosewood Heights | Saturday, June 25 2016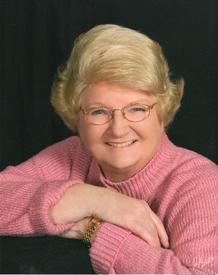 Carole Ann (Brown) Taylor, 81, passed away, peacefully, surrounded by family, at her home of fifty two years, at 2:22 p.m. Saturday, June 25, 2016.
Born October 19, 1934 to Ross and Edna (Yocom) Brown in Decatur, IL, she grew up in Stonington, graduating in 1953 from Stonington High School.
She married Norman Eugene Taylor, her high school sweetheart, there, on July 15, 1956 and shared nearly forty years of marriage before his death on May 3, 1996. They moved to Rosewood Heights in 1963 as Norman, a physician specializing in family medicine, joined a newly established primary care practice.
Carole lived a life of joy and service to her community. Carole was a dedicated member of St. Paul United Methodist Church for fifty three years, and served in many volunteer capacities, most recently as the Chair of the Memorials Committee. She was actively involved in the Alton Christan Woman's Club, serving as the Chairperson of this local chapter of Stonecroft Ministries at the time of her death. She was a member of the Illinois State Medical Society Alliance (ISMSA) for fifty six years and serviced on its board for twenty-five years; she served four terms as the President of the Madison County Medical Alliance. She was a Girl Scout Leader; Cub Scout Den Mother; and a secretary of Job Daughters-Bethel 88. In later years, she lovingly supported her grandchildren in sports and other pursuits.
Carole's warm hospitality and generosity made her home a destination for the friends of her children and all she met. She hosted visiting missionaries and speakers; Bible study groups; Rotary Club holiday parties; and the occasional fish fry. She loved to entertain guests and her dining room hosted many family dinners and gatherings.
Carole is survived by her four children, Jill (Taylor) Sullivan and william Sullivan of Hudson, MA; Judy (Taylor) Woods and Steve Woods of Alton; Jim and Karen (Wade) Taylor of Edwardsville; Jennifer (Taylor) Fix and Robert Fix of Burleson, TX; as well as by five beloved granddaughters, Mallory (Taylor) Sidarous and Matt Sidarous of Edwardsville, Vanessa (Taylor) Paradee and Steven Paradee of Edwardsville, Katelyn (Woods) Profancik and Nick Profancik of St. Louis, Erin Woods of Alton, Juliana Sullivan of Hudson, MA; step-grandchildren, Angela Fix of Chuluota, FL, Jill (Fix) Sucha and Tim of Crowley, TX; she is blessed with four great-grandchildren, Isaac and Leah Sidarous, Elaina and Taylor Paradee; step- great-grandson, Matthew Fix; brother, Gary Brown and Carol (McKinney) of Taylorville; sister-in-law, Jeannie (Taylor) Klay and Roy Klay of Wayne, MI; nieces, Cheryl (Klay) Walsh of Howell, MI, Diane (Brown) Reid of Taylorville; nephews, Kris Klay of Gaylord, MI, Doug Brown and Gary Ross Brown of Taylorville; and many great nieces and nephews.
She was preceded in death by her husband, Norman Eugene Taylor, MD; parents, Ross and Edna Brown; and in-laws, Charles and Virginia Taylor.
Visitation will be from 4-8 p.m. Tuesday, June 28 at St. Paul United Methodist Church in Rosewood heights, where services will be conducted at 10 a.m. Wednesday, June 29. Pastor Daryl Fansler will officiate. Burial will be in Woodland Hill Cemetery in East Alton. Memorials may be made to St. Paul United Methodist Church, Rosewood Heights.
Marks Mortuary in Wood River is in charge of arrangements.
Obit Provided By:
Mark's Mortuary