Bruce Wright
Granite City | Monday, August 22 2022 |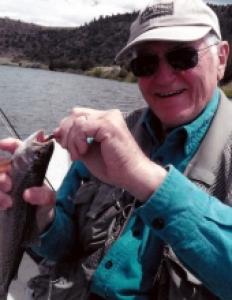 Bruce Overton Wright, Sr. died and went to eternal rest on August 22nd at 4:00 pm at Barnes-Jewish hospital. His wife, Lucretia Wright; daughter, Lisa; and sister-in-law, Mary Hecht, were holding his hands.
Born on July 31, 1935, to Emmett Overton and Irene Charlotte Wright in Granite City, Illinois. He married Lucretia (Cree) Marie Gosney on February 23, 1957. She survives. He was preceded in death by his parents; his sister, Shirley Fitzgerald and her husband, Bill; his grandson, Garrett Kenneth Wright; his nephews, Billy and Jim; a beloved group of childhood friends (the Benton Street gang), who he remained close with throughout his life; loving aunts, uncles, cousins, and a group of beloved friends that were like family. Bruce was the last surviving member of his friends—at times it was a hard journey. We're certain he's now rejoicing with "Duck," Kenny, Milton, and Del.
Bruce's family were generational/founding members of St. Peter's Evangelical United Church of Christ, in Granite City where he and Cree married and where many important life events were celebrated. His faith was strong, and he was an elder for many years. It was a sad day for him when St. Peter's held their last worship service in August of 2019.
Bruce was a devoted son, husband, father, and grandfather. He was a retiree of Illinois Power Company (Ameren) where he started as a mechanic and worked his way into managing all of the metro-east garages. Bruce was a talented mechanic who could diagnose any engine trouble simply by listening to the engine. His expertise will be sorely missed by all of his kids, grandkids, friends, and family who called periodically for "over the phone" consultations.
Bruce spent his early years working on a family farm in Troy, Illinois—where many life-long characteristics were born: work ethic, loyalty, and dependability. His love of tinkering with machinery blossomed there. In his elderly years, he loved connecting with family friend, Lowell Cary, about machinery and farming in Montana and enjoyed glorious times with his family in Bozeman, Montana.
Bruce spent much of his life trout fishing the streams of rural Missouri with his beloved father and uncles (especially Hadley). When he became a father to Bruce Jr., they often fished Deer Creek near the Wright Family homestead in Deer, Missouri.
Bruce shared his love of the outdoors with his children and grandchildren and spent his life enjoying fishing/camping trips with his childhood friends and their families. Wonderful times were had camping at Montauk State Park and Bennett Springs—traditions that continue with his kids today. Bruce took his last fishing trips with his son Bruce, grandsons, Garrett and Connor, and sons-in-law Frank and JD. Unable to fish himself in these last months of his life, he enjoyed simply being in the familiar places he had visited since his childhood and sharing stories from his long, well-lived life.
Following his retirement, he and Cree traveled in their motorhome with a particular fondness for the West. His most cherished memories were taking trips that included his grandchildren. Bruce was a devoted family man and was always there to help. His phone calls to family members confirming that they were safely home after a visit will be sorely missed. He had a gift for recognizing music from the 40s and 50s in 5 notes or less—he would have been a contender on the old game show "Name That Tune." He had specific ideas about how to do things, which we will laughingly continue, e.g., we'll be sure to "back" our cars in the garage in any kind of inclement weather.
Bruce will be grieved by his wife of 66 years, his daughter, Lisa (Frank) Zabawa (Granite City); his son, Bruce Wright, Jr. (Maryville, IL) and daughter, Kristin Wright (JD Sobol) (St. Louis, MO); grandchildren: Claire (Torey) Weiss (London, England), Meredith (Adam) Beck (Highland, Illinois), Connor (Sarah) Wright (St. Louis), and Charlotte Sobol (Spokane/St. Louis). He was so happy to welcome his first great-grandchild on June 16th, 2022: Jackson Joseph Beck (Highland, IL). Also survived by sister-in-law, Mary Hecht (Larry); nieces: Lucretia Bell (Rick), Denise (Bruce) Albers, Deedra Cramer, Kathie Sierra (Rudy), Barb Naille (Fred), and Kathie Fitzgerald; nephew: Aaron Hecht.
The family thanks the City of Maryville, Illinois EMTs; the trauma and ER doctors at Barnes Jewish Hospital; the 6th-floor nurses and doctors: specifically, Dr. Parker, nurses Sophia, Caryl, and Ashley. What phenomenal care they provided for Bruce: "The nature of humanity, its essence, is to feel another's pain as one's own and to act to take that pain away. There is nobility in compassion, and beauty in empathy" (John Connolly).
Memorial contributions may be made to BJC Hospice or Yellowstone Forever, PO Box 1857, Bozeman, MT, 59771-1857. 405-848-2400. Supporters@yellowstone.org.
Bruce was a quiet and private person. He wanted no services. He will be cremated and his remains will be buried later with his wife. His ashes will also be scattered at his favorite fishing spots in Missouri and Montana. Irwin Chapel of Granite City in charge of arrangements. www.irwinchapel.com

Godspeed, dad. We love you.
Obit Provided By:
Irwin Chapel Funeral Home