Brian Lagomarcino
Jonesboro, AR | Saturday, January 8 2022 |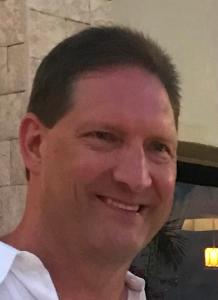 Brian Lagomarcino, age 54, of Jonesboro, AR, passed away suddenly and unexpectedly due to heart failure on January 8, 2022.
He was born in Alton, Illinois, the son of Suzanne Lagomarcino and the late Paul Lagomarcino.
He is survived by his wife, Candy, who he adored and was married to for 27 years. Brian is also survived by his children Dylan and Atley of whom he was so proud, along with his boxer, Roxy. Brian had two sisters, Debbie (Brad) Rudd in San Luis Obispo, CA and Natalie (Matt) Ledesma in Corte Madera, CA, brother-in-law David Trammell, mother-in-law Wilma Trammell, and his nephew & nieces, Shanley, Alexa, Jasmine, Lauren Michael, Dakota, and Siena.
Brian was passionate about family and friends and creating and maintaining lifelong friendships. Brian was raised in East Alton, IL where he attended Roxana High School. He played football at Arkansas State University where he earned a B.S. in Business Management. He was a member of the Pi Kappa Alpha fraternity. Professionally, Brian worked in the trucking industry. He started his career at Yellow Freight and for the past 11 years, he was a sales manager for Old Dominion Freight Line.
Brian was first and foremost a family man. His presence and energy filled a room – he was a protector, a peacemaker, a prankster, the life of the party, and an amazing storyteller. One of his favorite things to do was to be with friends and family telling stories to brighten up the room, no matter how many times he had already told them. Quick-witted, Brian loved to make people laugh and he loved to rile up those he loved. He was caring, loving, and affectionate. Saying "I love you" is one thing Brian never forgot to say, and everyone will remember those words in his voice. Brian lived life to the fullest. He will be greatly missed - Brian is irreplaceable and unforgettable to all who knew and loved him.
A celebration of his life will be held on June 29th at the Lovejoy Banquet Center in Alton. The Brian Lagomarcino "Lago" Football Scholarship Fund was established in Brian's memory. Donations may sent to Arkansas State University Red Wolves Foundation, P.O. Box 2219, State University, Arkansas, 72467 or online at https://bit.ly/lagoscholarshipfund.