Brandy Foiles
Jerseyville | Tuesday, June 13 2023 |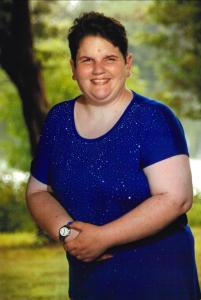 Brandy Beth Foiles, 39, passed away on Tuesday, June 13, 2023 at Christian Hospital-Northeast in Saint Louis, Missouri.
She was born on April 20, 1984 in Alton and was one of three children born to Wesley and Janice (Heitzig) Foiles.
At eight years old, Brandy was diagnosed with a brain tumor that left her blind and physically disabled. Despite her disability, she lived out the remaining 31 years of her life in a way that can only be described as extraordinary. Brandy never once complained or sought empathy for the hand she was dealt in life, but instead, consistently pushed forward and made sure to live each and every day to its fullest.
She was a lover of country music and always had a joke to share, which may not always have been "clean", but certainly made everyone laugh. She enjoyed the Christmas season, and got a jump start on shopping for gifts every year, most often checking everyone off her list by October. She enjoyed making crafts and knitting, and specialized in her famous pot holders. Throughout the years, she has nearly supplied every household in Jersey County with her one-of-a-kind creation, a memento of Brandy to be treasured for years to come.
She enjoyed the many friendships she created at Camp Courage in Jacksonville, and was proud of her celebrity status there for being the longest consecutive camp member, with 27 years under her belt.
She considered her birthday to be a national holiday, and the countdown to the next one began as soon as the other ended. In reality, each and every one of them deserved to be celebrated, because it was truly a blessing to have Brandy here on this Earth for as long as she was. We can all take a lesson from Brandy's book of life, and strive to live our own lives with the same upbeat personality, zest for life and resilience that Brandy had.
Surviving are her parents, Wes and Jan Foiles of Jerseyville; two brothers and a sister in-law, Rudy and Sarah Foiles of Jerseyville and Jerrid Foiles of Chicago; two nieces, Charlotte and Elaine Foiles, who she adored; a nephew, Deven Foiles; along with many aunts, uncles and cousins, all of whom held a very special place in her heart.
She was preceded in death by her paternal grandparents, Russell and Margaret Foiles and her maternal grandparents, Aloys and Mary Lou Heitzig.
Visitation will be held from 9 a.m. – 11 a.m., Wednesday, June 21, 2023 at Crawford Funeral Home in Jerseyville.
Mass of Christian Burial will follow at 11:30 a.m. at Holy Ghost Catholic Church in Jerseyville, with Father Hyland Smith officiating.
Burial will be at St. Francis Cemetery in Jerseyville.
In lieu of flowers or plants, memorials may be given to Camp Courage in care of the funeral home, in honor of the lifetime of memories Brandy created there.
Memories may be shared with the family by visiting www.crawfordfunerals.com.
Obit Provided By:
Crawford Funeral Home