Bill Clendenny
Grafton | Tuesday, March 2 2021 |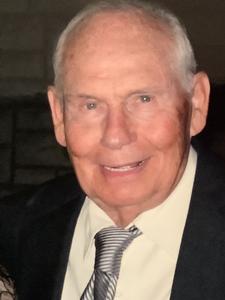 Bill Burdette Clendenny, age 96, passed away on March 2, 2021 at his home in Grafton, Illinois where he and his wife Dalene resided for the past 11 years.
Bill was born in Mozier, Illinois on April 19, 1924, the second of three sons, born to Gilbert & Marie Clendenny. He grew up in Calhoun County, graduated from Pleasant Hill High School, and briefly attended Western Illinois University in Macomb, Illinois before being drafted and serving in the U.S. Army. Bill often expressed how much he enjoyed the Army, and experiencing different parts of the world, especially his time in India. After WWII, Bill returned to Mozier and joined the family business, G.A. Clendenny & Son General Store, which became his life work.
On February 24, 1951, Bill married Dalene Quiller and together they raised three children, Joe, Robin, and Jay. The family lived in Mozier until 2009.
Bill devoted himself to running the store. He was a natural businessman and believed in good customer service; catering to locals as well as travelers just passing through. Among his responsibilies, Bill serviced all the televisions & appliances that he sold as well as being the only meat butcher. The Short Stop was always the locals first choice for Bill's lunch counter burgers and homemade soups.
All his life, Bill's passion was boating on The Mississippi River with family and friends. He had a reputation as an accomplished water skier and held that title well past middle age.
Bill served on the Calhoun Unit 40 School Board for many years, and was a member of the Kampsville American Legion. He also served as both Chairman and Treasure at St. Johns Lutheran Church in Kampsville.
Bill was an avid runner. He spent countless mornings jogging from Mozier up to Rip Rap Road and back, often with his daughter Robin. He also qualified and participated in several Senior Olympics in various locations throughout the country.
During retirement, he & Dalene continued to enjoy being on the river and taking vacations with good friends.
A dedicated Christian family man, faithful friend, and trusted businessman, Bill was a pillar within the community for decades. Kind and generous, he was loved by many and respected by all who knew him. He was a wonderful husband, father, and grandfather.
Bill is survived by his wife Dalene; son Joe (Pat) Clendenny
and daughter Robin (Raymond) Stottler; grandchildren, Patrick Clendenny, Michael (Eva) Stottler, Kayla (Kevin) Gauntt, and Clay (Beth) Clendenny; step-grandsons Chris, Tim, David, and Kevin Deck; and great grandchildren, Reegan and Kaden Stottler, and Leah and Sadie Gauntt; brother Terry Don Clendenny and family.
Bill was preceded in death by son Jay Clendenny, and brother Durlin Clendenny.
A drive by funeral will be held for the public at Summit Grove Cemetery on Friday, March 5th between 10:00 a.m. – 11:30 a.m. Private Graveside Service and Burial for family will follow.
In Lieu of flowers, memorials are to be made out to:
St. Johns Lutheran Church
316 St. Louis Ave
Kampsville, Il. 62053
St. Matthews Lutheran Church
Brussels, Il. 62013
Kampsville American Legion
Second St.
Kampsville, Il. 62053
Obit Provided By:
Gress, Kallal and Schaaf Funeral Home