Beverly George
Edwardsville | Saturday, July 10 2021 |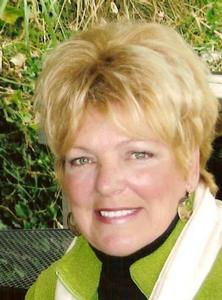 Beverly Henderson George, of Edwardsville, IL, passed away at her home on Saturday, July 10, 2021. She was born June 24, 1953, in Granite City, IL, the daughter of Edward Henderson and Shirley Henderson (Warren).
She was a vibrant, compassionate, brilliant woman, a fierce friend, an outstanding educator, and a woman of great faith. A woman of many hats, all of them big and fabulous, she relished time in her garden, devouring books by the handful, and sipping wine in the sun on an Italian piazza or wherever her travels took her.
She married her husband of 39 years, John D. George on June 12, 1982, at Hope Lutheran Church in Granite City, IL. Bev is survived by her husband, John, mother, Shirley, daughter and son-in-law, Sarah and Terry George-Waterfield of Durham, NC, and brother- and sister-in-law Mike and Susan Featherstun, of Glen Carbon, IL. She was preceded in death by her father, Edward.
Bev graduated with a bachelor's degree in English (1975) and a master's degree in secondary education (1979) from Southern Illinois University at Edwardsville. Deeply invested in learning and education, Bev taught at Highland High School and later in SIUE's Upward Bound program. She also implemented a delinquency prevention program for the City of Edwardsville.
An exceptional businesswoman, Bev was President of Bev George and Associates, the oldest independent real estate firm in the Edwardsville area. As the author of five published real estate courses, she lectured at real estate seminars internationally and served as the chair of the Illinois Association of Realtors Professional Standards and Education committees. She served on the National Board of the Certified Residential Brokerage Council and was former chair of the Real Estate Education Foundation. The Greater Gateway Association of Realtors named her "Realtor of the Year" and "Outstanding Educator."
Bev was also deeply devoted to expanding educational opportunities and initiatives at SIUE and beyond. She was a member of the Edwardsville Chamber of Commerce and served on the Edwardsville School District Citizen's Advisory Council. She served as the chair of the SIUE School of Education Advisory Board, a member of the School of Education Academy of Fellows, a mentor for Students Today, Alumni Tomorrow (STAT), the president of the SIUE Alumni Association Board of Directors, and the SIUE Foundation board president.
A memorial service will be held at 2:00 pm on Thursday, July 15 at Trinity Lutheran Church, 600 Water Street, Edwardsville, IL. There will be a reception from 3:30 pm-5:30 pm at Sunset Hills Country Club, Edwardsville. In lieu of flowers, memorial contributions can be made to the SIUE Foundation and the Madison County Humane Society. Weber & Rodney Funeral Home is in charge of arrangements. Condolences may be expressed online at weberfuneralhome.com.
Obit Provided By:
Weber & Rodney Funeral Home