Betty Blaylock
Granite City | Sunday, May 1 2022 |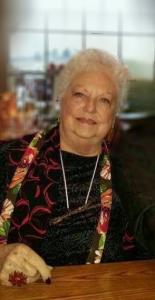 Betty Joann Blaylock, age 85, of Granite City, IL, passed away on Sunday, May 1, 2022, at Granite Nursing and Rehab in Granite City, IL. Betty was born on July 1, 1936, in St. Louis, MO, a daughter of the late Robert R. McKeown and Ethel M. (Smith) Bentler.
On December 13, 1956, Betty McKeown married Albert Blaylock, the love of her life in St. Louis, MO. Betty was a faithful member of House of Victory Church in Rosewood Heights, IL, and she enjoyed going to church to serve the Lord. Betty was a loving wife, mother, sister, grandmother, great-grandmother, aunt, and a dear friend to many. After raising her children, Betty went to work in the office at S.W.I.C. for a few years. Her greatest joy was spending time with her family. Betty loved life, she loved to laugh, but most of all she loved her family. She will be sadly missed by all who knew and loved her.
In addition to her parents, Betty was preceded in death by a sister, Suzanne Jaycox; brothers, John McKeown and James McKeown; and by a grandson, Andrew Doherty.
She is survived by her devoted husband, Albert Blaylock of Granite City, Il; loving children, Deanna (Brian) Chastain of Granite City, IL, Cynthia (Rodger) Doherty of Florissant, MO and Jonathan (Gina) Blaylock of Granite City, IL; dear sister, Nancy Powell of Florissant, MO; proud grandmother to seven grandchildren and twelve great-grandchildren; many nieces, nephews, extended family, and friends.
A memorial visitation will be held from 5:00 p.m. until 8:00 p.m. on Friday, May 13, 2022, at Irwin Chapel, Granite City, IL.
In celebration of her life, a memorial service will be held at 11:00 a.m. on Saturday, May 14, 2022, at Irwin Chapel, Granite City, IL.
Interment will be in Sunset Hill Memorial Estates in Glen Carbon, IL.
Memorial donations may be given to House of Victory Church in Rose Wood Heights, IL. Donations will be accepted at the funeral chapel.
Condolences may be expressed to the family online at www.irwinchapel.com.
Obit Provided By:
Irwin Chapel Funeral Home