Betty Reif
Carrollton | Saturday, March 5 2022 |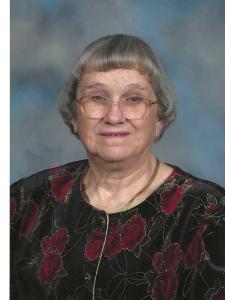 Betty Jean (Bland) Reif 88 of Carrollton passed away Saturday, March 5 at Boyd Memorial Hospital in Carrollton.
Betty was the oldest child born to Walter (Snooks) and Irene (Goewey) Bland on October 27, 1933, in Calhoun County. She married Delmar Reif on May 17, 1953. She attended Village Green (Calhoun County) Richwoods, Keach and Eldred grade schools. She graduated from Eldred High School in 1950 and Carrollton High School in 1951. Betty was a 4-H leader and a member of Greene County Home Extension. She was a bookkeeper for the family businesses.
She loved her role as a homemaker and farm wife. She loved word search puzzles, baking, gardening, and reading her Bible. She enjoyed attending her grandchildren and great-grandchildren's events. She was a member of Eldred Baptist Church where she taught Sunday School and served as a deaconess for many years.
She is survived by her daughter Deborah Campbell, sons Bob (Cathy) Reif and Rodney Reif, and son-in-law Robert McPherson all of Carrollton. She is also survived by grandchildren Timothy Reif, Jonathan (Ashley) Campbell, Becky (Thomas) Hoaglin, Samantha McPherson, Jenny Reif, Matthew (Melissa Loy) Campbell, and Ashley McPherson all of Carrollton, Michael (Tobi Miller) Campbell of Greenfield, Daniel Campbell of Godfrey, David (Allison) Reif of Champaign, Greg (Jennifer) Reif of Glen Carbon, and Katie (Spencer Laughlin) Reif of Athens. Great Grandchildren surviving are Konnor Campbell, Brody Reif, Addison Campbell, Hannah Hoaglin, Lucas Hoaglin, Elissa Reif, Harper Hoaglin, Emmalee Reif, Wyatt Campbell, William Reif, Aubrey Garrison, Paisley Osterman, and Kinley Osterman. She is also survived by a brother Dean (JoAnn) Bland and a sister Patsy (deceased husband Larry) Churchman. Also surviving are several nieces and nephews. She was preceded in death by her parents Walter and Irene Bland, her husband Delmar Reif, a daughter Darla McPherson, a daughter-in-law Mary Reif, and son-in-law Roger Campbell.
Visitation will be from 4-7 p.m. on Tuesday, March 8, 2022, at the Airsman-Hires Funeral Home in Carrollton. Funeral services will be held on Wednesday, March 9, 2022, at 3:30 p.m. at the Eldred Baptist Church in Eldred. Burial will be in Eldred Memorial Gardens Cemetery. Memorials may be made to the Boyd Hospital Gas Card Program. Condolences may be left online at: www.airsman-hires.com.
Obit Provided By:
Airsman Hires Funeral Home