Bernard Peipert
Alton | Tuesday, May 2 2023 |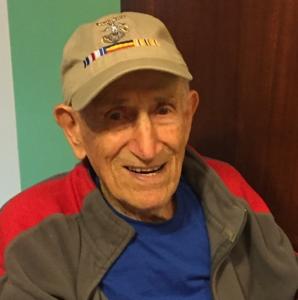 Bernard L Peipert, Sr., age 102, passed away on Tuesday, May 2nd, at Alton Memorial Hospital, surrounded by his family.
Bernard was born August 16, 1920, in Alton, the son of the late William (Pappy) & Johanna (Fuchs) Peipert.
He was a Marquette Catholic High School graduate; and in 1941, Bernard began serving 46 months with the 2nd Division of the U.S. Marine Corp Fleet Marine Force during \NWII. Following training in San Diego, California, Bernard served in Tulagi, Guadalcanal, New Zealand, Tarawa, the Hawaiian Islands, Saipan, and Tinian, returning to the United States in 1944. On September 30, 1944, he married the former Mae Warden at Sts. Peter and Paul Catholic Church in Alton. He retired in 1982 after 35 years of service as a carpenter/lather, first with C. B. Neudecker and then with James Varner Construction Company. He belonged to Local 662 (formerly 1997). Throughout, Bernard was an avid hunter and fisherman and has had a cabin at the Old Gillespie Lake since 1949. Following his retirement, Bernard spent countless hours on home renovations for his children; and as many hours sharing tales of his many adventures with his friends and family.
Bernard is survived by two daughters, Shelly Peipert and Jill (and Steve) Wegescheide; two daughter-in-laws, Nancy (and Denis) Wendle and Becky (and Karry) Wilson; nine grandchildren, Devin (and Victoria) Peipert, Molly Peipert (and Jeff Lehmann), Adam (and Brooke) Peipert, Monica Emde, Scott Peipert, Elizabeth (and Ben) Coe, Maggie (and Scott) Monahan, Matthew Wegescheide, and Andy Wegescheide; and nine great grandchildren, Harrison Peipert (born on Bernard's 101 st birthday), George Lehmann, Hazel Peipert, Juniper Peipert, Tucker Emde, Mazie Emde, Wren Peipert, William Monahan, and Jack Monahan.
In addition to his wife and parents, Bernard is also preceded in death by three brothers, William, Jr., Preston (Pep), and Bob Peipert; his daughter, Mary Ellen; his four sons, John, Larry, Benny, and Mark; and his daughter-in-law, Rosemary (Adams/Peipert) Gaston.
Visitation will be Saturday, May 13, 2023 from 9:00am to 9:45am at the St. Ambrose Community Center. Mass to follow at 10am at St. Ambrose Catholic Church in Godfrey Illinois. Burial at St. Patrick's Cemetery.
Reception immediately following in the St. Ambrose Community Center. In lieu of flowers, donations may be made to St. Ambrose Community Outreach, 820 W Homer Adams Parkway, Godfrey, IL 62035
Online condolences and guestbook may be found at www.eliaskallalandschaaf.com.
Obit Provided By:
Elias, Kallal & Schaaf Funeral Home