Bernadette E. "Bernie" Zabotka
Madison | Saturday, November 17 2018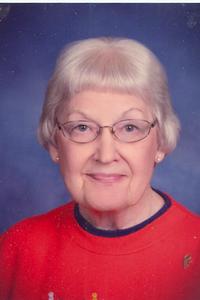 Bernadette E. "Bernie" Zabotka, 90 of Madison, Illinois passed away peacefully on Saturday, November 17, 2018 at Anderson Hospital in Maryville.
Bernadette was born on January 3, 1928 in Mitchell, Illinois; the daughter of the late Joseph A. and Magdalene E. (Zellerman) Troeckler.
Bernadette was an Executive Secretary to the president of General Steel for 20 years, retiring in 1965. She was a 58 year member of St. Mary Catholic Church in Madison where she gave countless hours singing in the choir and helping prepare funeral luncheons at Engelbert Hall. Bernadette was a member of the St. Ann's Society, Croatian Fraternal Union and served as a Eucharistic Minister. Bernadette enjoyed her days of bowling, taking care of her lawn and spending time with her dear friend Marilyn Krausz. Bernadette was a loving mom and wife who will be remembered for the love of her family and all the special times they shared together.
Bernadette is survived by and will be missed by her daughter; Kathryn (Tony) Lebro of Prairietown, Illinois; son, Edward (Kate) Zabotka of Edwardsville, Illinois; grandchildren, Elizabeth Lebro of Prairietown, Illinois, Emily Lebro of Prairietown, Illinois, Luke Zabotka of Edwardsville, Illinois, Andialyn Zabotka of Edwardsville, Illinois; sisters, Kathie (Joe) Kuhnline of Alton, Illinois, Sister Mary Raymunda (Rosemary Troeckler) of Springfield, Illinois; numerous nieces, nephews and many other close family members and friends.
In addition to her parents, Bernadette was preceded in death by her husband; Edward L. Zabotka, whom she married on April 23, 1960 at St. Elizabeth Church in Mitchell, Illinois and her brother, Frank Troeckler Sr.
Visitation for Bernadette will be held on Friday, November 23, 2018 from 4:00 to 8:00 p.m. at Irwin Chapel, 3960 Maryville Road in Granite City. In Celebration of Bernadette's life, service will be held on Saturday, November 24, 2018 at 10:00 a.m. with Fr. Jeff Holtman officiating at St. Mary Catholic Church, 1621 10th Street in Madison, Illinois.
Burial will follow at Calvary Catholic Cemetery in Edwardsville, Illinois.
Memorial donations in Bernadette's memory are suggested to St. Mary Church or Vitas Healthcare.
Obit Provided By:
Irwin Chapel Funeral Home