Arlen Seaman
St. Charles, MO | Wednesday, February 9 2022 |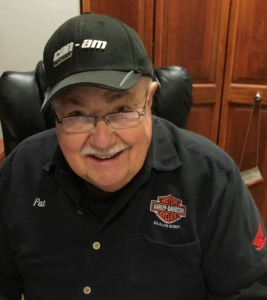 Arlen "Pat" Seaman passed away Wednesday, February 9, 2022, at St Joseph Hospital in St. Charles, Missouri. He was 86 years old.
He was born March 17, 1935, in Gypsum, Kansas, a son of the late Floyd (Ted) and Ferne (Grant) Seaman. He was married 33 years to Lurlene (Hoeft). Pat had one older brother Kendall. Pat had many hobbies over the years, he was quite the artist, poker player and he loved motorcycling. In 1966 Pat opened First Capitol Sportscenter in St. Charles with a little-known brand, Yamaha. Then, in 1968 he brought on Honda and Harley Davidson in 1976. He sold the dealership in 1978 to Bob Schultz Motors. Pat sold many products over the years, cars, solar home heating systems, manufactured homes, and of course motorcycles. Pat was the Sales Manager at Ted's Motorcycle World in Alton for 17 years. After he retired from there, he opened Old Glory Guns in St. Charles which he and Lurlene ran for a couple of years before selling the store. Pat will be greatly missed by his family, friends, and all who shared life with him.
He is survived by his wife Lurlene, his three children, daughter Melinda Stewart (Pat) his sons Rocky (Patti), and Jim (Leslie). Two stepchildren Lori Young and Richard (Kristen) Burgess. And his favorite son-in-law Bill Stewart. Pat had sixteen Grandchildren and six Great Grandchildren.
Pat was preceded in death by his parents and his brother Kendall.
A Celebration of Life will be held on Sunday, March 13, 2022, at Tubby's Banquet Room, West Clay and Droste Road, St. Charles from 2 pm till 5 pm. March 17th his children will be celebrating his birthday at Duchesne Bar, just like Pat has done for years. Green beer will be served.