Ariana Scoggins
Alton | Tuesday, February 9 2021 |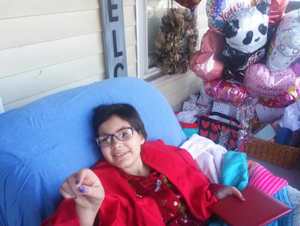 Ariana Marie Scoggins, 14, passed away at 2:52 a.m. Tuesday, February 9, 2021, at her home in Alton.
Born February 14, 2006, in Alton, she was the daughter of Angela Scoggins of Alton.
She was a member of Upper Alton Baptist Church and was a student at Alton High School. Ariana graduated from Alton High School with an honorary degree, Class of 2024 on February 3, 2021.
Ariana loved to sing, dance and compliment others. She fulfilled her purpose in this life by loving well and being kind. She has now received her ultimate healing from brain cancer.
Along with her mother, she is survived by a sister, Juniper Scoggins of Alton, grandparents, Carol and Jeff Saxton of Alton, great grandmother, Jeanette Saxton of Alton, aunts and uncles, Torrey and Fallyn Saxton of South Bend, IN, Molly Saxton of Alton, J.D. 'John' Saxton of Alton, and Annie Saxton of Alton.
She was preceded in death by great grandparents, Patricia and Jerry Scoggins and John and Helen Rodell and Tom Saxton.
Visitation will be from 3:00-7:00 p.m. Friday, February 12, 2021, at Upper Alton Baptist Church.
Face masks are required and a maximum of 50 people will be allowed in the church at one time.
Funeral services will be private but can be viewed at 10:00 a.m. Saturday, February 13, 2021, on the Gent Funeral Home Facebook page. Reverend Brad Donoho will officiate.
Burial will be at Upper Alton Cemetery. Memorials may be made to Pedal The Cause, St. Louis Children's Hospital Cancer Research or the Upper Alton Baptist Church Children's Center.
Gent Funeral Home in Alton is in charge of arrangements.
Online guestbook and information may be found at www.gentfuneralhome.com
Obit Provided By:
Gent Funeral Home