Anna Peters
Jerseyville | Monday, October 10 2022 |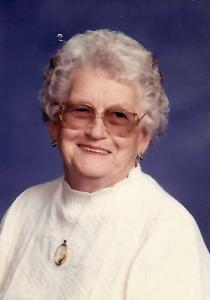 Anna Marguerite Peters, age 98, of Hardin passed away on Monday, October 10, 2022, at 6:45 a.m. in Jerseyville, Illinois.
Anna was born on January 9, 1924, she was the daughter of the late Walter Guy and Beulah Ione (Fonck) Mortland.
She was united in marriage to Cecil A. Peters on the 4th of July 1946 at the First Methodist Church of Alton, Illinois by Rev. Frank Hedger, a family friend. Cecil preceded her in death on September 13, 1993.
She graduated from Kitzmiller Beauty School and for several years had a beauty shop in Hardin. Marguerite was a member of the First Presbyterian Church of Hardin and served as a Session member and deacon for several years. Also, she was a Sunday School teacher, President of the Ladies Presbyterian Women, and an activator of the prayer circle and funeral dinners.
Marguerite enjoyed working in her flower and vegetable gardens and won several ribbons for her beautiful quilts. Over several years, she crocheted over 700 baby hats for the newborns at the Jerseyville Hospital. She spent many hours compiling the history of the Mortland-Fonck and the Peters-Sconce families. She enjoyed going to watch her grandsons play baseball and being with family.
She is survived by two daughters: Sheila Wilkie of Brighton, Illinois, Brenda (Brian) Schreiber of Elk River, Minnesota, and a son, Curtis (Cheri) of Hardin, eight grandchildren: Marcy Schreiber of Belleville, Christopher (Rachel) Schreiber of Forest Lake, Minnesota, Bryce (Brandy) Wilkie of Jerseyville, Drew Wilkie of Florissant, Missouri, Gregory (Sara) Peters of New Berlin, David (Brittany) Peters of Hardin, Aaron (Becky) of Batchtown, and Seth Peters of Hardin. Thirteen great-grandchildren: Anya Alexis, Fiona, and Evander Wilkie; Addisyn, Nolan, Easton, and Jett Peters; Brooklyn, Skylar, Conner, and Tucker Peters; Jay and Sophie Peters. Also surviving is a sister-in-law, Virginia Mortland.
She was preceded in death by her parents, three brothers, and a sister-in-law, an infant Harvey, Clifford & Mary Mortland, and Kenneth Mortland, one sister and brother-in-law, Lucille & Jerome Tucker, two brothers-in-law and wives, Samuel & Adelaide Peters and Fred & Gloria Peters, a son-in-law, James Wilkie, several cousins, nieces, and nephews.
Visitation will be Sunday, October 16, 2022, from 5:00 to 7:00 p.m. at Gress, Kallal, and Schaaf Funeral Home in Hardin, IL.
The funeral service will be held on Monday, October 17, 2022, at 10:00 a.m. at the First Presbyterian Church of Hardin.
Burial will be at the Indian Creek Cemetery.
Memorials may be made to the First Presbyterian Church or one's choice.
Gress, Kallal, and Schaaf Funeral Home in Hardin are in charge of arrangements.
Obit Provided By:
Gress, Kallal and Schaaf Funeral Home