Anita Earhart
Collinsville | Tuesday, May 18 2021 |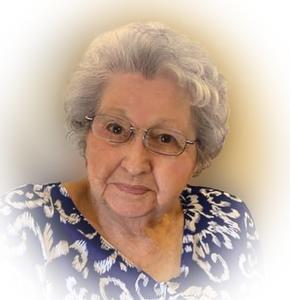 Anita Earhart, 99, formerly of Collinsville, Illinois, died Tuesday, May 18, 2021, at the Carlyle Healthcare Center in Carlyle, Ill.
Mrs. Earhart, who was working at a World War II defense plant when she met the man she would marry, went on to build a happy life around her family and friends as a homemaker. She was admired for her cooking, but perhaps loved best for a reliably positive attitude that endured through her final days.
The daughter of immigrants from Spain, Mrs. Earhart (nee Fernandez) was born August 29, 1921, at Cherryvale, Kansas, but spent most of her childhood in Fairmont City where she grew up as the middle child among two sisters and two brothers. She was an athlete, excelling at bowling, golf, basketball and track, and pitching in a women's softball league.
She was equally comfortable gardening or painting at home, antiquing at yard sales and traveling the country to visit children who once were spread from Delaware to California.
Although she met Reba Douglas Earhart at the old NESCO plant in Granite City, then making war materiel, he enlisted in the Army Air Force and won a Silver Star for heroism on a B-29 bomber crew before they married. The couple eventually settled in Granite City, and Reba pursued a management career at the Shell Oil Co. refinery in Roxana. The family moved to Collinsville in the mid-1960s.
Mrs. Earhart was a longtime member of the Bluffview Baptist Church in Collinsville, Illinois.
She was preceded in death by her husband, Reba Douglas Earhart; her parents, Jose and Pilar, nee Alvarez, Fernandez; two sisters, Mary Budnicki and Angie Macios, and two brothers, Joe and Manuel Fernandez; and a grandson, Keith Douglas Ohlendorf.
Surviving are two daughters, Dr. Cathleen (Dr. Douglas) Ohlendorf of Delano, Minnesota; Dr. Karen (Pat) Gauen of Rochester, Minnesota; one son, Keith (Barb) Earhart of Collinsville; grandchildren Heather Earhart, Shannon (Dan) Lloyd, Dr. Christopher (Jennifer) Stephenson, Bethany (Ben) Horstmann and Heather (Mike) Hutches; and 10 great-grandchildren, Violet Lloyd, Henry Lloyd, Tommy Lloyd, Abigail Stephenson, Esther Stephenson, Isaac Horstmann, Jonah Horstmann, Adam Horstmann, Caleb Horstmann, and Ezra Hutches.
Visitation will be 9 - 10:30 a.m. on Saturday, May 22, 2021, at the Barry Wilson Funeral Home, in Maryville, Illinois. The funeral will follow, with Rev. Roger Wright of the Bluff View church officiating. Per the family's request, masks are required to be worn. Burial will be in Sunset Hill Cemetery in Glen Carbon, Illinois.
Memorials may be made to Bluffview Baptist Church and will be received at the visitation or can be mailed in care of the funeral home at 2800 N. Center Street, Maryville, IIlinois, 62062.
Condolences may be expressed to the family at barrywilsonfuneralhome.com
Obit Provided By:
Barry Wilson Funeral Home & Cremation Services