Albert Johnson
Highland | Saturday, August 6 2022 |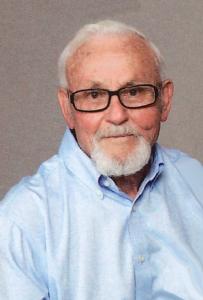 Albert R. Johnson, age 86 of Highland, IL, died Saturday, August 06, 2022, at San Gabriel Memory Care in Highland, IL.
He was born on Friday, October 11, 1935, in Madison, IL, the son of Leroy and Edna Pearl (nee Arnold) Johnson.
On Saturday, July 03, 1954, he married Doris B. (nee Jacober) Johnson, at St. Paul Catholic Church, Highland, IL, who passed away on Thursday, March 15, 2018.
He was a member of Saint Paul Catholic Church and the Machinist Union, St. Louis, MO.
Albert was born in Madison, IL, after his mother passed away he lived in California from 1943 - 1945. He returned to St. Louis and lived with his father until he passed away in 1945. He then lived with his older siblings until going out on his own. He lived in Highland and attended Highland High School. In 1956 Albert started his career at McDonnell-Douglas Corporation, now Boeing. Katherine Oriez interviewed him for an article in the Highland News Leader, titled "He's seen space history in the making" which detailed the many projects he worked on through the years. Albert worked on Sky Lab, the Columbia and Challenger space shuttles, Mercury and Gemini spacecraft, and the Navy's Harpoon missile. During his career for McDonnell-Douglas, he traveled to Johnson Space Center in Houston, Texas, and other places like California, Washington, Alabama, Hawaii, and several trips to the space center in Florida. During his career, Albert received many Citations, Commendations, and Service Awards for his work. He retired from Boeing with 40 years of service. Albert loved reading westerns and his favorite author was Louis L'Amour. At one time his collection of Louis L'Amour books totaled over 300 paperback and hardback copies. He was a machinist and very "mechanical minded". He repaired many things around the house. He was a woodcrafter and had a collection of tools he used in construction, crafting, and woodworking for several years made woodcrafts and small furniture pieces for art and craft shows. He enjoyed visiting flea markets and antique malls. He and his wife Doris enjoyed visiting the large flea markets on their annual trips to Florida. Gardening was one of Albert's hobbies. In addition to a vegetable garden, he had a fishpond in his landscape for many years. He enjoyed the family tradition, of having breakfast together every Sunday morning. He loved animals and Bertha was his dog for many years, and then he adopted Spot from Highland Animal Shelter. Albert and Doris traveled to many different states and in later years, owned several different campers. One of their favorite places to travel was Florida. Also, traveled to the Covered Bridge Festivals in Indiana.
Survivors include Daughter - Barbara A. (Kevin) Stallard; Son - Michael R. (Life Partner - Deanne Havel) Johnson; Grandchildren - Jaime L. (Travis) Schrage; Matthew M. (Danielle) Stallard; Great Grandchildren - Charlie J. Schrage; Benjamin L. Schrage; Samuel T. Schrage; Amelia M. Stallard; Lincoln M. Stallard.
He was preceded in death by his Father - Leroy Johnson - Who died in 1945; Mother - Edna Pearl (nee Arnold) Johnson - Died 1942; Wife - Doris B. (nee Jacober) Johnson - Died 3/15/2018; Grandchild - Zachary Gilbert Henry Stallard - Died 4/21/1997; Siblings - Velma Johnson; Russell Johnson; Ralph Johnson; Margaret Johnson; Laura Johnson; Francis Johnson; Edna Johnson; Mary Ellen Johnson; Odes Roy Johnson; Charles William Johnson; Alice Marie Johnson (twin to Albert); Robert Eugene Johnson; James Kenneth Johnson.
Arrangements are being handled by Spengel-Boulanger Funeral Home in Highland, IL.
Visitation will be held from 4:00 PM to 7:00 PM on Wednesday, August 10, 2022, at Spengel-Boulanger Funeral Home in Highland, IL, and from 8:00 AM to 9:30 AM on Thursday, August 11, 2022, at Spengel-Boulanger Funeral Home in Highland, IL.
Funeral Mass will be at 10:00 AM on Thursday, August 11, 2022, at Saint Paul Catholic Church in Highland, IL, with Rev. Fr. Pat G. Jakel, Pastor, officiating.
Interment will be at Saint Joseph Catholic Cemetery in Highland, IL.
Memorial contributions may be made to Metro East Humane Society (Highland Animal Shelter), HSHS Hospice, or Masses.
Obit Provided By:
Spengel-Boulanger Funeral Home