Adolph Albert "Al" Laschober
Jerseyville | Saturday, February 28 2015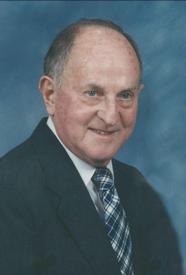 Adolph Albert "Al" Laschober, 91, recently of the Jerseyville area, died at 5:46 p.m., Saturday, February 28, 2015 at Jersey Community Hospital in Jerseyville.
He was born on October 14, 1923 in Austria, one of three children born to the late Adolf and Anna (Sauer) Laschober.
Al grew up in South St. Louis, where he graduated from Roosevelt High School before joining the United States Army, where he served our country honorably in World War II.
After returning from the service, he returned to St. Louis where he married the former Alta Kuhlmann in 1947 and the two made their home in Overland, MO where they raised their four children.
Al worked at a bakery in South St. Louis for a short time before he began working alongside his father at Kilgen Organ Company and later went on to work for McDonnell-Douglas where he retired in 1985 after nearly 25 years of service.
He later met the former Helen (Green) Jett at a Single's Square Dance Group and the two would marry on October 14, 1978 at the Trinity Lutheran Church in St. Ann, MO, where they made their home for many years before relocating to Bethalto in 2006. Together they were blessed with 31 years of marriage before her passing on July 7, 2010.
A carpenter by trade, Al enjoyed woodworking and sharing his creations with those he loved. He and Helen also enjoyed traveling, and did so extensively. One of their fondest traveling memories comes from the trip they took with Al's brother and sister-in-law back to where they grew up in Austria.
Al was a wonderful family man and will be most remembered for his great sense of humor and his zest for life – always proclaiming "I had a good life".
Surviving are a son, Gene Laschober of Kirkwood, MO; three daughters, Barbara Harper of St. Louis, MO; Deborah, and her husband, Bill Thompson of Peavely, MO and Donna Reedy of Ferguson, MO; three step-sons, and their spouses, Thomas and Mary Jett of Hannibal, MO; Everett "Lou" and Barbara Jett of Bethalto and Andrew Jett of Dallas, TX; a step-daughter and son-in-law, Cindy and Dick Zumwalt of Jerseyville; 15 grandchildren and 21 great-grandchildren.
In addition to his parents and his wife Helen, he was preceded in death by his first wife and mother of his children, Alta Laschober; a brother and sister-in-law, Walter and Virginia Laschober and a sister, Ann Mager.
Visitation will be from 10 a.m. until time of funeral services at 1 p.m., Saturday, March 7, 2015 at the Crawford Funeral Home in Jerseyville with the Rev. G. Robert Heimgartner officiating.
Burial will take place at the Oak Grove Cemetery in Jerseyville, with full military honors conducted by the Jerseyville American Legion Post 492 Color Guard.
Memorials may be given to the Missouri Synod in care of the Funeral Home.
The family would also like to extend a special "Thank You" to the nurses and staff at Jerseyville Nursing & Rehabilitation Center, for the tremendous care and compassion shown to Al and their family during his time there.
Obit Provided By:
Crawford Funeral Home