Wednesday Sports Roundup
January 12, 2023 7:39 AM
January 12, 2023 11:47 AM
Listen to the story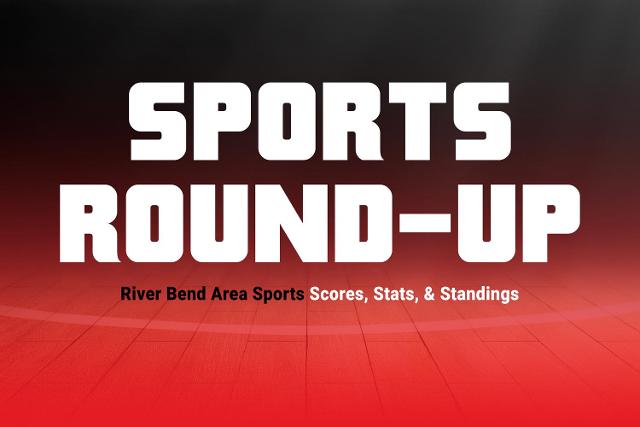 WEDNESDAY, JANUARY 11 SPORTS ROUNDUP
BOYS BASKETBALL
Get The Latest News!
Don't miss our top stories and need-to-know news everyday in your inbox.
BROOKLYN LOVEJOY 78, VALMEYER 50
In the Chester Invitational tournament, Lovejoy broke out to a big lead and never trailed in going on to take the win over Valmeyer.
The Wildcats lead from start to finish, holding leads of 21-14, 44-22 and 69-40 after the first three quarters, with the Pirates outscoring Lovejoy in the fourth quarter 10-9.
Harry Miller enjoyed a big game for Valmeyer with 30 points, while Landon Roy added 10 points, Jacob Brown and Elijah Miller each scored three points, Tanner Frierdich hit for two points and both Luke Blackwell and AIden Crossin scored a single point each.
The Wildcats are now 8-7, while the Pirates go to 4-10.
In the other game played at Chester, Waterloo Gibault Catholic won over Saxony Lutheran of Jackson, Mo. 50-41.
In the Centennial Winchester West Central Invitational, in the consolation quarterfinals, Liberty won over Carlinville 49-34 and Hardin Calhoun won over White Hall North Greene 61-53. In a championship quarterfinal game, Griggsville-Perry won over the host Cougars 52-49.
In a regular season game, St. Louis Lutheran North won over East St. Louis SIUE Charter 66-31.
GIRLS BASKETBALL
BREESE MATER DEI CATHOLIC 53, GRANITE CITY 35
Mater Dei went out to a lead from the start and never looked back in defeating visiting Granite City.
Melashia Bennett led the Warriors with 18 points, while Kaylyn Wiley added nine points and Emily Sykes scored eight points.
The Knights are now 14-3, while Granite goes to 4-12.
HARDIN CALHOUN 55, WINCHESTER WEST CENTRAL 40
Article continues after sponsor message
In the final game of the group stage at the White Hall North Greene Lady Spartan Classic, Calhoun took the win and advanced to the final on the basis of fewest points allowed during the group stage.
The Warriors led all the way, holding edges of 14-10, 23-18 and 35-29 after the first three quarters, outscoring the Cougars in the fourth quarter 20-11 to take the win and advance.
Haley Schnelten and Audrey Gilman both led Calhoun with 13 points each, while Kate Zipprich added 11 points, Jaelyn Hill came up with 10 points, Lila Simon had five points, Stella Gress scored two points and Kiera Sievers had a single points.
The Warriors will play the winner of Franklin South County and Pittsfield for the championship on Saturday.
In another game played on Wednesday, East Alton-Wood River defeated Bunker Hill 44-27. The results for Carlyle at Metro-East Lutheran and Roxana at Waterloo Gibault Catholic were not available at press time.
BOYS BOWLING
O'FALLON 37, ALTON 3
Eric Spond led Alton with a 628 series, with a high game of 227, in the Redbirds' loss to O'Fallon in a dual bowling meet at St. Clair Bowl in O'Fallon.
Ben Mitchell had a high game of 208 in tossing a 593 series for the Redbirds and Brayden Buchanan had a 576 series with a pair of 204 games.
In the junior varsity match, Gavin Goeway led with a 547 series, with a high game of 190, as the Panthers won over Alton 7-0.
GIRLS BOWLING
O'FALLON 38, ALTON 2
Clara Veloff once again led the way for Alton with a 57 series, with a high game of 156, in the Redbirds' loss to O'Fallon at St. Clair Lanes in O'Fallon.
Rebekah Von Plinsky threw a 434 set, with a high game of 170, while Ava Taulbee had a 430 series, with a high game of 178.
In the junior varsity meet, Chalyse Jarrett tossed a 423 series, with a high game of 166, as Alton lost to the Panthers 7-0.
If you have an item for the Sports Roundup, please E-mail the results and statistics to Dan Brannan at dbrannan@riverbender.com, or you may text the results to (618) 623-5930. and it will be used in that day's Riverbender.com/EdGlenToday.com Sports Roundup. We will accept both high school and junior high school results for the Sports Roundup.
More like this: