Listen to this article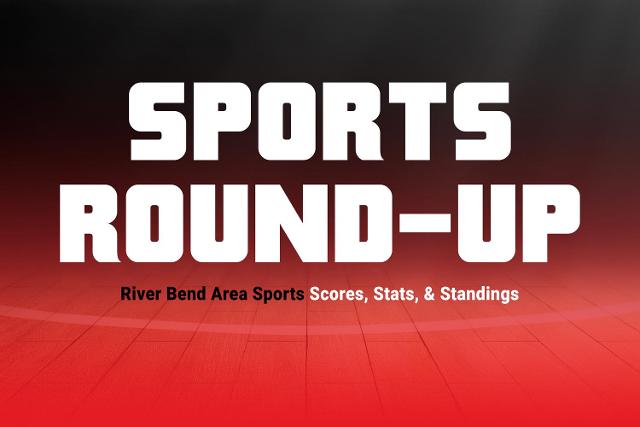 WEDNESDAY, DECEMBER 28 SPORTS ROUNDUP
BOYS BASKETBALL
Get The Latest News!
Don't miss our top stories and need-to-know news everyday in your inbox.
15TH DUSTER THOMAS HOLIDAY CLASSIC
In the championship quarterfinals of the Duster Thomas Holiday Classic in Pinckneyville, Olney Richland County defeated Jersey 65-35, the host Panthers defeated Louisville Ballard 69-50, Mt. Carmel defeated Murphysboro 53-30 and Benton won over Mounds Meridian 56-46.
In the consolation quarterfinal games, Roxana defeated Okawville 53-48, Salem won over Steeleville 42-26, Chester won over Woodlawn 55-44 and Carlyle won over Campbell Hill Trico 39-33.
In the championship semifinals, Richland County defeated Pinckneyville 60-45, while Benton won over Mt. Carmel 51-45. In the fifth-place semifinals, Jersey got past Ballard 65-64, while Murphysboro won over Meridian 69-47.
In the consolation semifinals, it was Salem defeating Chester 34-30, while Roxana lost to Carlyle 50-42. The 13th-place semifinals saw Steeleville top Woodlawn 38-25 and Okawville get past Trico 48-41.
The Panthers are now 9-5 and play Murphysboro in the fifth place playoff game at 5:30 p.m., while the Shells go to 6-10 and meet Chester in the 11th place game at 12 noon. The final between Richland County and Benton tips off at 7:30 p.m.
CARLINVILLE HOLIDAY TOURNAMENT --- GROUP STAGE
HARDIN CALHOUN 57, CARLINVILLE 35: In the Carlinville Holiday Tournament, Calhoun concluded the group stage with a win over the host Cavaliers.
Chase Ralston led the Warriors with 18 points, with Connor Longnecker added 11 points and Chase Caselton came up with 10 points. Ryenn Hart led Carlinville with 11 points, while Dom Alepa added eight points.
Calhoun is now 2-6, while the Cavies are now 2-7.
LITCHFIELD 58, STAUNTON 42: Litchfield concluded its group play with a win over Staunton, advancing the Purple Panthers to the final.
Braden Buffington and Brady Gillen led the Bulldogs with 17 points each, who are now 6-6, while Litchfield is now 9-4.
BUNKER HILL 72, GILLESPIE 64: Bunker Hill got its first win of the season with a win over Gillespie.
Grant Burch had another big game for the Minutemen with 28 points, while Cole Yates added 15 points, Jaydon Houseman scored 14 points and Will Manar had 11 points.
Bunker Hill is now 1-5, while the Miners slip to 1-7.
EAST ALTON-WOOD RIVER 73, HILLSBORO 68: EAWR took the win over Hillsboro to sweep its group and move on to the final against Litchfield.
Devon Green had a big game for the Oilers with 28 points, while Jakob Gerber and Seth Slayden both scored 14 points and Lucas Moore hit for 10 points.
EAWR is now 7-10, while the Hilltoppers go to 6-4. Litchfield and EAWR play in the final Thursday night at 7:30 p.m.
FREEBURG-COLUMBIA HOLIDAY TOURNAMENT --- GROUP STAG
COLUMBIA 62, CIVIC MEMORIAL 36: In the second and final day of the group stage at the Freeburg-Columbia Holiday Tournament at the Freeburg gym, Columbia jumped to an early lead in going on to take the win over CM.
Sam Buckley led the Eagles with 12 points, while August Frankford added seven points.
CIVIC MEMORIAL 62, NELSON COUNTY, KY. 44: In CM's second game of the day, the Eagles got the win over Nelson County of Bardstown, Ky.
Adam Ogden led the Eagles with 20 points, while both Buckley and Frankford each added 10 points to give CM the win.
In other games played on the day, Piasa Southwestern lost to Waterloo Gibault Catholic 55-47, but bounced back to defeat Marquette Catholic 45-43.
The Explorers, now 7-6, play against Nelson County, who are 3-8, in the seventh place game Thursday afternoon at 2 p.m., while the Piasa Birds, who go to 6-8, meet Waterloo, who are 3-9, for fifth place at 3:30 p.m., CM, now 7-6, play Gibault, who are 10-3, for third place at 5 p.m., and the two co-hosts, the 10-2 Eagles and the 9-4 Midgets, play for the championship at 6:30 p.m.
BREESE MATER DEI CHRISTMAS TOURNAMENT --- GROUP STAGE
In the second day of the group stage at the Mater Dei Christmas Tournament, Mascoutah won over Metro-East Lutheran 69-29, CBC defeated Trenton Wesclin 52-38. it was hosts Mater Dei over the Indians 67-61, Nashville defeated McCluer of Ferguson, Mo. 62-31, Briarcliff Christian of Levee Eads, Tenn., won over Orchard Farm, Mo. 79-55 and Breese Central defeated Nashville 60-27.
Metro-East is now 0-7 on the year and conclude group play Thursday against Mater Dei in a 12 noon tip-off.
38TH PRAIRIE FARMS COLLINSVILLE HOLIDAY CLASSIC
COLLINSVILLE 71, OAKVILLE 41: The host Kahoks hit on all cylinders in the second half, especially in the third quarter, in taking an opening round win over Oakville of south St. Louis County.
The Kahoks led all the way through, with leads of 13-10, 31-24 and 55-30 after the first three quarters, outscoring the Tigers in the fourth quarter 16-11.
Jake Wilkinson led four players for Collinsville in double figures with 22 points, while Jamorie Wysinger added 17 points, Zach Chambers had 11 points, Nick Horras hit for 10 points, K.J. Thorps-Watt scored four points, Matt Shelton had three points and both Stanley Carnahan and Solomon Talbott each scored two points.
The Kahoks are now 9-4, while Oakville goes to 3-5.
COLLIERVILLE, TENN. 56, TRIAD 47: In the opening round of the Prairie Farms Collinsville Holiday Classic, Collierville, Tenn., went off to a big first-quarter lead, only to see Triad come back in the second quarter to cut the lead to six at halftime, but held on to defeat the Knights and advance to the quarterfinals.
The Dragons took a 14-3 lead after the first quarter, with Triad rallying to come within 28-22 at halftime, then Collierville led after the third quarter 42-31, with the Knights outscoring the Dragons in the fourth 16-14, but Collierville coming out on top.
Article continues after sponsor message
Drew Winslow had a big game for Triad with 24 points, while Jake Stewart added 11 points, McGrady Noyes had six points, A.J. Mills scored three points, Owen Droy scored two points and Tyler Thompson had a single point.
The Dragons are now 12-3 and advance to the a quarterfinal game against Quincy, a 67-41 winner over Alton in the final game of the opening day, at Vergil Fletcher Gym, while the Knights meet the Redbirds in the auxiliary gym, both games starting at 2:30 p.m.
In other first round games on Wednesday, O'Fallon won over Mundelein 62-51, defending champion Decatur MacArthur defeated Madison 67-39, Belleville East defeated McCluer North 49-40, Lincoln won over Granite City 52-43, Rockford East held off a late Belleville Althoff Catholic rally to win 67-64 and Quincy defeated Alton 67-41.
NINTH EFFINGHAM-TEUTOPOLIS HOLIDAY TOURNAMENT
In the final game of the opening day of the Effingham-Teutopolis Holiday Tournament, the host Flaming Hearts defeated Highland 53-42, while in the other first-round games, Oak Lawn won over Belvidere 61-44, Effingham St. Anthony Catholic defeated St. Louis Lutheran North 55-49, Chicago Brooks won over Dixon 65-55, co-host Teutopolis defeated Charleston 75-50, Frankfort Lincoln-Way East won over Mattoon 86-51, Champaign Centennial got past Newton 48-39 and Pleasant Plains won over Knoxville 55-39.
The Bulldogs are now 7-5 and play Knoxville in the consolation quarterfinals at 10:30 a.m. Thursday.
GIRLS BASKETBALL
48TH DUCHESNE CATHOLIC HOLIDAY TOURNAMENT
CHAMPIONSHIP SEMIFINAL
JERSEY 46, ST. LOUIS NOTRE DAME CATHOLIC 31: Jersey rallied from a slight first-quarter deficit to win over Notre Dame and move on to the final.
Cali Breden led the Panthers with 12 points, while both Cate Breden and Meredith Gray had eight points each.
Jersey is now 9-7 and will play Ursuline Academy, who defeated Ft. Zumwalt North in the first semifinal 64-44, in the final Thursday afternoon at 3:30 p.m. The Rebels go to 3-6 and play Ft. Zumwalt North in the third-place game at 2 p.m.
CONSOLATION SEMIFINAL
DUCHESNE CATHOLIC 45. GRANITE CITY 33: The host Pioneers took an early lead in going on to the win over Granite in the consolation semifinals.
Kaylyn Wiley led the Warriors with 14 points, with Melashia Bennett adding five points.
Duchesne is now 3-6 and plays Mehlville who defeated St. Charles 57-43 in the first semifinal, in the consolation final at 12:30 p.m, while Granite goes to 4-8 and play the Pirates in the seventh place game at 11 a.m.
BENTON CHRISTMAS CLASSIC
CONSOLATION QUARTERFINALS
MARQUETTE CATHOLIC 47, DU QUOIN 44: Marquette rallied twice to take a close win over Du Quoin in the consolation quarterfinals at Benton.
Payton Patterson and Addison Pranger both scored 14 points each for the Explorers, while Haley Rodgers added 13 points.
Marquette goes to 9-7 and plays Carterville, who won over West Frankfort 50-32, in the semifinal Thursday at 10:30 a.m. The Indians are now 4-10 and play the Redbirds, who are 2-12, in the 13th-place semifinals Thursday at 10:30 a.m.
In the championship quarterfinals, Christopher defeated Triad 44-30 to go on to the semifinals. The Bearcats are now 12-0 and meet the host Rangers, who won over Marion 52-40, at 1:30 p.m., while the Knights are now 2-11 and play against the Wildcats in the fifth-place semifinals at 1:30 p.m.
In the other results of the day, in the championship quarterfinals, Mt. Vernon won over Vienna 71-33, while Salem won over Harrisburg 39-37. In the consolation quarterfinals, Herrin won over the Benton JV, while Goreville defeated Carbondale 51-45.
CARLINVILLE HOLIDAY TOURNAMENT --- GROUP STAGE
HARDIN CALHOUN 44, FRANKLIN SOUTH COUNTY 42 (OT): Calhoun rallied from a 23-7 first quarter deficit to force overtime, then outscored South County 4-2 to win in their final group stage game.
Kate Zipprich had a big game for the Warriors with 22 points, while Audrey Gilman added nine points.
Calhoun is now 5-2, while the Vipers fall to 4-4. South County will play in the seventh place game Thursday afternoon against Raymond Lincolnwood at 12 noon.
CARLINVILLE 36, GREENFIELD NORTHWESTERN 29: Carlinville had a big third quarter to help defeat Northwestern.
Isabella Tiburzi led the Cavaliers with nine points, while Hannah Gibson, Kaitlyn Reels, and Braley Wiser all scored six points each.
Carlinville goes to 6-9 and takes on Gillespie in the third place game Thursday afternoon at 3 p.m. The Tigers slip to 6-5 and meets Willamsville in the fifth place game at 12 noon.
In the other group games, Nokomis defeated Gillespie 57-28, while Williamsville won over Lincolnwood 40-22. The Redskins and Warriors meet in the final at 6 p.m.
DON MAUER INVITATIONAL AT MARY INSTITUTE-COUNTRY DAY SCHOOL. LADUE, MO.
WATERLOO-RED BUD HOLIDAY TOURNAMENT—GROUP STAGE
In the group stage of the Waterloo-Red Bud Holiday Tournament, Belleville Althoff Catholic defeated Roxana 54-38, Columbia won over Red Bud 77-47, Carlyle took the win over Marissa-Coulterville 61-18 and Waterloo won over Waterloo Gibault Catholic 55-27.
The Shells are now 3-9 and conclude group play against the Musketeers Thursday at 3 p.m.
If you have an item for the Sports Roundup, please E-mail the results and statistics to Dan Brannan at dbrannan@riverbender.com, or you may text the results to (618) 623-5930, and it will be used in that day's Riverbender.com/EdGlenToday.com Sports Roundup. We will accept both high school and junior high school results for the Sports Roundup.
More like this: