Listen to the story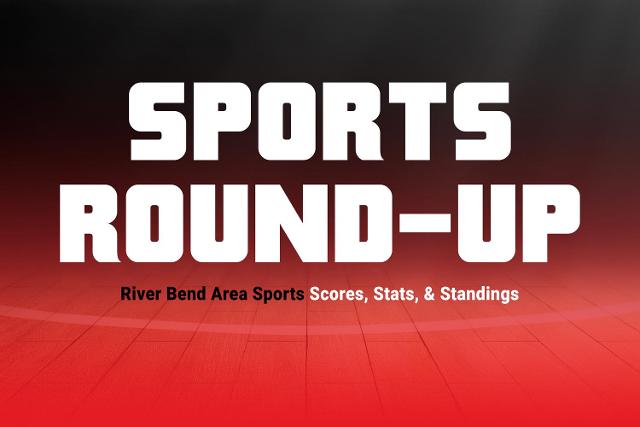 TUESDAY, AUGUST 29 SPORTS ROUNDUP
BOYS CROSS COUNTRY
Get The Latest News!
Don't miss our top stories and need-to-know news everyday in your inbox.
CARLINVILLE EARLY MEET AT LOVELESS PARK
TAYLORVILLE TAKES THREE OF TOP FIVE POSITIONS IN WINNING CARLINVILLE EARLY MEET, CAVIES ARE FIFTH, PANTHERS SIXTH: Owen Morgan of Taylorville won the race as he helped the Tornadoes win the boys race at the Carlinville Early Meet, held late Tuesday afternoon at Loveless Park.
Taylorville won the team title with 25 points, while Lincoln was second with 85 points, Rochester came in third with 93 points, Auburn was fourth at 126 points, the host Cavaliers came in fifth with 131 points, Jersey placed sixth with 145 points, in seventh place was Litchfield with 162 points, in eighth place was Gillespie with 194 points and Greenville came in ninth with 202 points. Marquette Catholic, Carrollton, Staunton and East Alton-Wood River also had runners in the race but didn't record a team score.
Morgan won the race with a time of 15:31.06, with teammate Liam Bettis second at 16:15.55, in third place was Camden Quarton of Litchfield, who was in at 16:32.17, Luke Jones of Lincoln came in fourth at 16:38.74 and the Tornadoes' Jesse Sloan rounded out the top five at 16:47.11.
Braden Nash led the Explorers with a time of 21:54.08, while Owen Page was in at 21:55.52 and Roger Zawodniak had a time of 27:22.77. Matt Dunn led the Cavies with a time of 18:11.33, with Sam Wilson home at 18:58.89, Daniel Eichen had a time of 19:02.39, Alex Behme was clocked in 19:26.05 and Jack Goby had a time of 19:38.05.
John Vandersand led the Hawks with a time of 21:47.05, while Liam Albrecht was in at 22:45.21 and Sam Droste had a time of 26:36.92. Logan Wade led the Panthers with a time of 18:24.39, with Matt Bishop coming home at 18.48.74, Kris Turnbaugh had a time of 19:02.74, Jack Deist was in at 19:44.61 and Kaden Strohbeck was home at 20:13.67.
Nick Monahan led the Bulldogs with a time of 18:38.70, while Aiden Green was in at 20:21.86, Thomas Ogata's time was 22:10.67 and Trevor Myers came in at 24:57.52. Isaiah Simpson-Kolmer led the Oilers with a time of 19:02.99, while Evan Baker was in at 19:41.36, Jamal Burgess, Jr. had a time of 20:39.27 and Kirk Lane came in at 21:22.80.
BOYS GOLF
JERSEY 181, EAST ALTON-WOOD RIVER 213, ROXANA 218: Logan Huitt was the medalist with a four-over-par 39 for nine holes as Jersey took a triangular meet over EAWR and Roxana.
To go along with Huitt's 39, Michael Roberts shot a 40, John Paul Vogel came up with a 46, both Drew Margherio and Caden Klunk each had a 49 and Bradley Deist fired a 51.
GIRLS CROSS COUNTRY
CARLINVILLE EARLY MEET AT LOVELESS PARK
ROCHESTER SWEEPS MIDDLE THREE SPOTS IN TOP FIVE, WINS CARLINVILLE EARLY MEET, EXPLORERS ARE FOURTH, PANTHERS FIFTH: Rochester swept the middle three positions in the top five to help them win the team title in the Carlinville Early Meet, held Tuesday evening at Loveless Park.
The Rockets won with a total of 25 points, with Litchfield coming in second with 68 points, Taylorville finished third with 76 points, Marquette Catholic came in fourth with 101 points, Jersey was fifth at 126 points, the host Cavaliers finished sixth with 181 points, Greenville was seventh with 183 points and Staunton was eighth with 193 points. Carrollton and East Alton-Wood River also had runners who competed, but not enough to recored a team score.
Article continues after sponsor message
Ella Goodman of the Tornadoes was the winner with a time of 19:37.55, while Rochester swept the next three spots, with Ashley Ziebert second at 20:20.92, sister Brooke Ziebert was third with a time of 20:34.67, Natalie Nichols took fourth place with a time of 20:43.21 and Auburn's Mackenzie Mallicoat rounded out the top five with a time of 21:06.02.
Lillian Hannigan led the Explorers with a time of 22:36.83, while Paige Rister was in at 22:37.61, Katie Johnson had a time of 22:46.05, Cassidy Eccles was in at 25:22.55 and Isabella Johnson had a time of 26:40.24. Hannah Truax led Carlinville with a time of 24:21.14, while Elyse Eldred came in at 24:54.89, Danielle Furness came in at 29:03.74, Madalyn Quarton had a time of 31:32.45 and Maizie Harris came home at 32:31.27.
Darci Albrecht was the top runner for the Hawks at 26:35.61, while Calle Field came in at 30:40.02. Abby Fraley led the Panthers with a clocking of 24:03.08, Taylor Woodring's time was 24:28.89, Reese Lorton was in at 24:44.83, Ali Brooks was home at 25:27.17 and Addison Campbell had a time of 26:19.92.
Mallory Lucykow was the leader for the Bulldogs, having a time of 24:27.33, Lydia LaRosa had a time of 28:34.27, Elsah Clark came in at 29:45.33, Cheyenne Butcher was in at 31:08.42 and Brooke Rucker came in at 32;28.42. Gina Truax was the lone runner for the Oilers and her time was 27:46.77.
GIRLS TENNIS
FATHER MCGIVNEY CATHOLIC 9, GRANITE CITY 0: McGivney swept all nine matches in their win at Granite City High's tennis courts.
Natalie Beck, Kennedi Taylor, Lilly Forneris, Maddie Beck, Katherine Empson and Kylie Becker won their singles matches, while the doubles teams of Natalie Beck and Taylor, Forneris and Empson and Brynn Hawkins and Maddie Beck all won their matches.
In other results from Tuesday, Bunker Hill won over East Alton-Wood River 4-1, Jersey defeated Alton 10-2,
GIRLS VOLLEYBALL
CARLINVILLE 25-28, HIGHLAND 19-26: In a closely contested match, Carlinville took a straight sets win over Highland at the Carlinville Big House.
Ella Clevenger had four kills for the Cavaliers, while Makenah Dugan served up three points and also had two kills, Hannah Gibson had nine kills, Kallie Kimbro had four kills and a block, Jordyn Loveless had two points and a kill, Maddie Murphy had two kills and a block, Chloe Pope had 11 points, four aces and a kill, Isabella Tiburzi had four kills and 17 assists, Karly Tipps came up with four points, three aces and an assist and Braley Wiser had three points, two aces and three assists.
Carlinville is now 3-0 on the young season, while the Bulldogs slip to 1-1.
EAST ALTON-WOOD RIVER 25-26, PIASA SOUTHWESTERN 16-24: EAWR was able to fight off a spirited rally in the second set to claim a straight-set win over visiting Southwestern at EAWR Memorial Gym.
Madison Fenstermaker served up a point for the Piasa Birds, while Maddie Gordon had three points, a kill and nine assists, Josie Hagen had a pair of kills, Haleigh Sinclair had a single point, three kills and two blocks, McKenzie Stanton had a single point, two kills and an assist and Vivian Zurheide had six points, an ace, three kills and four blocks.
The Oilers are now 4-3, while Southwestern goes to 1-7.
In other results from Tuesday, Valmeyer went to 6-1 on the year with a 25-12, 25-17 win over visiting Sparta, Belleville East won at Alton 25-10, 25-21, Freeburg defeated Marquette Catholic 25-11, 25-5, Collinsville won at home over East St. Louis 25-18, 25-16 and Columbia won over visiting Civic Memorial 25-17, 25-14. The results for the matches between Metro-East Lutheran at Waterloo Gibault Catholic and St. Louis Rosati-Kain Catholic Academy at Granite City were not available.
More like this: