Tammy Duckworth: A vote for Trump nominee Bill Wehrum is a vote against the RFS
October 18, 2017 10:49 AM
Listen to the story
SPRINGFIELD - U.S. Senator Tammy Duckworth (D-IL) wrote an op-ed in The Hill today, outlining her opposition to President Trump's nominee to oversee the implementation of the Renewable Fuel Standard (RFS) at the EPA, Bill Wehrum. Citing Wehrum's history as a longtime critic of the RFS – and his years filing lawsuits attacking the RFS on behalf of special interests opposed to it – Duckworth urged her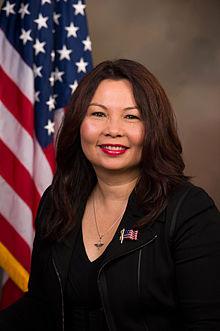 fellow Senators who support the RFS to oppose Wehrum's nomination to lead the EPA's Office of Air and Radiation. Wehrum's nomination is scheduled to be considered tomorrow morning in the Senate Committee on Environment and Public Works, which Duckworth is a member of.
The Hill: A vote for Bill Wehrum is a vote against the RFS
Get The Latest News!
Don't miss our top stories and need-to-know news everyday in your inbox.
BY SEN. TAMMY DUCKWORTH (D-IL)
There is a reason that the Renewable Fuel Standard (RFS), our nation's policy governing the production and sale of biofuels, has broad bipartisan support in Congress. This policy is helping us revive rural economies, reduce our greenhouse gases, and become less dependent on foreign oil. Despite these benefits, in the ten months that Donald Trump has been president, his administration has launched unprecedented attacks on the program - attacks that fly in the face of promises Trump made as a candidate to our nation's farmers that he would champion the RFS program if elected.
Soon after he was elected, the president appointed Carl Icahn as a special advisor to the president. Icahn immediately went to work trying to weaken the RFS program by pushing for a policy change that would allow oil refineries to stop complying with it - a dramatic change that would have benefitted an oil refinery Icahn owns to the tune of hundreds of millions of dollars. After months of working towards that change, Ichan abruptly left the administration when it was exposed that he may have violated federal anti-corruption law, but the administration's attacks on the RFS didn't end there.
In January, the president selected a favorite of the Big Oil lobbyists who have been working to kill the RFS as his EPA administrator, Oklahoma Attorney General Scott Pruitt. During his Senate Confirmation hearing, Pruitt testified under oath to the Senate Environment & Public Works Committee that he would follow the goal Congress had expressed when it created the RFS: to create a strong, environmentally friendly biofuels industry to help us achieve energy security.
Article continues after sponsor message
At the time, Pruitt was seeking votes to get confirmed. Unfortunately, as soon as he secured his confirmation, he began to undermine the program from his new EPA office.
Specifically, Pruitt has been trying to weaken the rule that requires biofuels to be blended in our transportation fuel. This rule is the heart of the RFS and is what guarantees investment and growth in the biofuels industry. Furthermore, his actions have caused chaos for stakeholders who are required by law to comply with the program, but are struggling to keep track of this administration's efforts to undermine it. It has generated concern among farmers that the rug is about to be pulled out from underneath them.
Most recently, the Trump administration has nominated Bill Wehrum to lead the office that is in charge of implementing the RFS, EPA's Office of Air and Radiation. He has been attacking the biofuels industry for years, representing groups ardently opposed to RFS, like the American Petroleum Institute (API), at least four times in lawsuits attacking the program.
During his nomination hearing, Wehrum evaded answering basic questions from my colleagues on whether he would execute the RFS program as Congress intended. He stubbornly refused to acknowledge the administration's recent actions were hurting the American biofuel industry. He refused to commit to recusing himself from RFS-related issues despite his obvious and well-documented conflicts of interests. When pressed about his position on the program, he even claimed he was unfamiliar it. How could that be? Mr. Wehrum worked in the office that oversees the RFS when the program became law and has argued against the program in at least four lawsuits. The ease at which this misleading statement rolled of Mr. Wehrum's tongue should be alarming to all of my colleagues.
As someone who fought to defend this nation, I have seen firsthand the price we pay for our dangerous dependence on oil imported from our adversaries. We spend approximately $67.5 billion protecting global oil supplies each year. We should not be risking lives and wasting money when we can use energy grown right here at home in states like mine. In Illinois, the RFS supports more than 4,000 jobs and generates more than $5 billion dollars in economic impact. Nationwide, it is supporting 86,000 direct jobs and it has helped generate $8.7 billion in tax revenues that go to schools, roads and first responders.
I have already fought a war over oil, and I would rather run my car on American-grown corn and soybeans than oil from the Middle East. Mr. Wehrum clearly disagrees. Any senator who supports the RFS program, our farmers, and our commitment to the environment and energy dependence must oppose his nomination.
More like this: