Spartans fall in overtime thriller to Triopia, Josh Hopper scores 1,000th point
February 7, 2018 1:35 AM
February 7, 2018 10:57 AM
Listen to the story
WHITE HALL - It had the makings to be a special night.
Get The Latest News!
Don't miss our top stories and need-to-know news everyday in your inbox.
Josh Hopper needed to score 12 points to reach the 1,000-point mark of his career, and his head coach Brett Barry was one win shy of his first 20-win season.
One of them reached their milestone.
Unfortunately, it wasn't the one everybody ultimately wanted to come away with.
The North Greene Spartans dropped a 63-59 overtime loss to the Triopia Trojans at Triopia Junior-Senior High School in Concord on Tuesday night.
The Spartans fall to 19-5 and drop to 6-3 in the WIVC. Triopia goes to 19-6 and remains unbeaten at 8-0 in the WIVC.
Berry described the game with one word:
"Chaos."
"That was a slug fest with two heavyweights going at each other and battling. It was gonna come down to the wire," Berry said. "Our kids are doing such a good job of fighting and fighting. It was a fun game."
Triopia will claim revenge because North Greene ousted them in another barn burner 55-53 in the quarterfinals of the Winchester Invitational Tournament.
This is also the third overtime the Spartans have been apart of and lost. The previous two were to Brown County 65-62 and three weeks ago 73-72.
Hopper scored a game-high 16 points and notched his 1,000th career point late in the fourth quarter. The game was paused, and he ventured into the visiting grandstand and handed the basketball to his mother, and embraced her.
Brett Whicker tallied 13 points, and Zion Thomas added 12 with three triples. Jonah Hopper who came into the game averaging 18 points managed eight. Berry said that he's currently battling the flu.
"Zion came off the bench and had a beautiful game. He's a senior and is getting back to the roots that we want him to do. He believes in himself again."
Article continues after sponsor message
Triopia had a balanced attack led by Jared Milby's 15 points. Shawn Bell and Garrett Snow each scored 13 and Zach Thompson followed with 11.
The Spartans got out to an 8-0 lead, but Triopia went on a 7-0 run to edge back in before Thomas nailed a three-pointer at the buzzer to give North Greene a 16-10 lead after one quarter.
Both teams played even basketball in the second frame, and the Spartans led 29-26. With five seconds left in the first half, Snow missed a free throw, but got his miss and converted on an and-one with two seconds to play.
Triopia came out hot in the second half and went on a 15-4 run to grab their biggest lead of the game at 41-34. The Trojans would hold onto that advantage until the Spartans overtook them when Jonah Hopper made two straight free throws that gave his team a 52-51 lead. He expanded it to 54-51 moments later.
"It starts with defense. Blake Dean and Whicker create such a presence out there. Defensively that tandem is unbelievable with what they can do to disrupt. Thompson and Bell are prolific scorers, and they did a wonderful job," Berry said.
Milby, one of the few seniors on Triopia connected on a clutch three-pointer with just over 50 seconds left in the game.
Triopia got the stop they needed with 37 seconds to play and were poised to win as Thompson drove to the hoop and was fouled with one second left on the clock.
All he had to do was make one of two free throws.
He could not.
That forced overtime and gave the Spartans new life. However, it was the Trojans who took more advantage of it and picked up Thompson.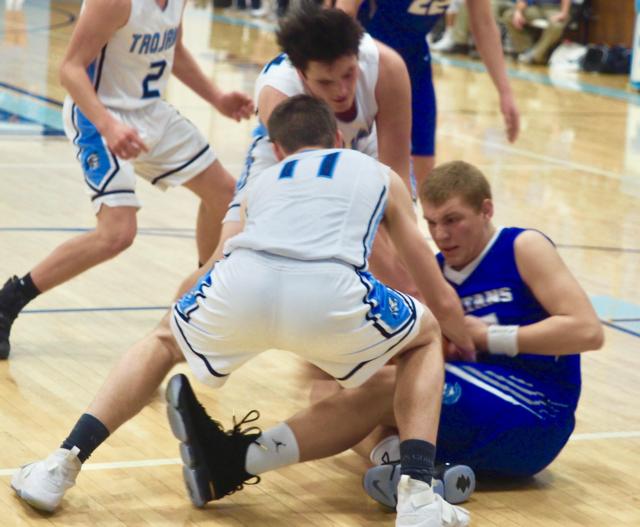 They made six-of-seven free throws to get a 60-54 lead, which also saw Whicker and Justin Lawson foul out. Thompson gave the Spartans some momentum with an and-one and with under 30 seconds to play North Greene had a chance to tie the game with a three-pointer.
They had two chances, but couldn't score, and that was the game.
"I think the biggest thing we can take away from this is not let that frustration get the better of [us]. We've gotten much better about keeping our heads up and not giving in." Berry said. "We had two good looks at the end to tie. I impressed with them creating those opportunities."
More like this: