Sen. Durbin Testifies at House Oversight Hearing on JUUL's Role in Youth E-Cigarette Epidemic
July 24, 2019 2:59 PM
July 24, 2019 2:59 PM
Listen to the story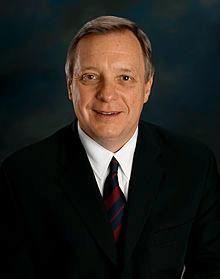 WASHINGTON – U.S. Senate Democratic Whip Dick Durbin (D-IL) today testified at a House Oversight Subcommittee on Economic and Consumer Policy hearing entitled "Examining JUUL's Role in the Youth Nicotine Epidemic." Durbin testified about JUUL's role in the youth nicotine addiction epidemic, relationship to Big Tobacco companies, and its use of marketing to appeal to youth. Between 2017 and 2018, the number of American teenagers using any tobacco product increased by nearly 40 percent – the largest single year increase in youth tobacco use ever.
"JUUL and other e-cigarette companies like to claim that their products are only meant for adult smokers looking to quit cigarettes, but a look at the facts quickly dispels that notion. For one, there are no clinical trials proving that JUUL devices help adults quit smoking cigarettes. None. Despite all the marketing claims and all the paid testimonials, there is no credible medical evidence of JUUL's most fundamental claim. None," Durbin said. "Instead, these devices—and the candy, dessert, and fruit flavors—are causing children to develop a nicotine addiction at far greater rates than they are helping adults quit smoking cigarettes."
Get The Latest News!
Don't miss our top stories and need-to-know news everyday in your inbox.
In his testimony, Durbin criticized the Food and Drug Administration (FDA) for its delay of commonsense regulation of the e-cigarette industry by years, its failure to remove illegal e-cigarette products from the market, and its failure to stop e-cigarette companies from making unproven positive health claims.
"I have made clear to Acting FDA Commissioner Sharpless—and Commissioner Gottlieb before him—that FDA's hapless spectatorship must come to an end, whether by law, regulation, court order, or discovering the political will to get off the sidelines," Durbin said.
In May, Durbin sent a letter to Acting FDA Commissioner Dr. Ned Sharpless urging him to get off the sidelines and address the public health epidemic of youth use of e-cigarettes with strong enforcement action from his agency.
Earlier this year, Durbin—along with 10 of his Senate Democratic colleagues—launched an investigation into JUUL Labs, Inc. by sending a letter to CEO Kevin Burns slamming the company for its partnership with Big Tobacco giant Altria, and questioning its marketing tactics to hook children on nicotine with kid-appealing flavors. The Senators posed an extensive series of questions and made requests for documents pertaining to JUUL's secret business practices around youth marketing and intentions to partner with Altria, and whether the vaping industry titan is in violation of regulations or commitments made to the FDA. Federal public health agencies have identified JUUL as being largely responsible for fueling the e-cigarette epidemic among America's youth, while no clinical evidence has emerged in the United States of JUUL's use as a potential tobacco cessation tool.
Article continues after sponsor message
Durbin also discussed the Stopping Appealing Flavors in E-Cigarettes for Kids (SAFE Kids) Act , a bipartisan and bicameral bill he introduced with Senator Lisa Murkowski (R-AK) and U.S. Representatives Diana DeGette (D-CO-01) and Jamie Raskin (D-MD-08), that would crack down on kid-friendly flavorings in highly-addictive e-cigarettes and cigars by placing strong restrictions on e-cigarette flavorings and ban cigar flavorings altogether.
Specifically, the SAFE Kids Act would:
Place Strong Restrictions on E-Cigarette Flavorings: The bill would generally restrict flavored e-cigarette products, but allow manufacturers one year to prove to the Food and Drug Administration (FDA) that their e-cigarette flavorings meet three criteria. If companies can prove that their e-cigarette flavors meet these three criteria, they can remain on the market:
1. Help adults quit smoking cigarettes;
2. Do not increase youth initiation of nicotine or tobacco products; and
3. Do not increase the risk of harm to the person using the flavor.
Ban Cigar Flavorings Altogether: Given that there is no public health benefit to smoking cigars, the bill would ban the use of all flavors in cigars within one year.
More like this: