Sen. Durbin Speaks At 40th Annual National Black Prosecutors Association Conference
Listen to the story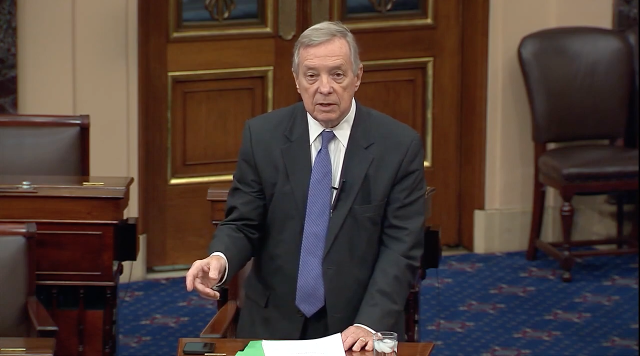 CHICAGO – Today, U.S. Senate Majority Whip Dick Durbin (D-IL), Chair of the Senate Judiciary Committee, delivered remarks at the National Black Prosecutors Association's (NBPA) 40th Annual Conference in Chicago, the same city where 100 Black prosecutors met for the first time in 1983 and brought about the organization's founding.
Get The Latest News!
Don't miss our top stories and need-to-know news everyday in your inbox.
NBPA describes itself as the "only professional membership organization dedicated to the advancement of blacks as prosecutors" and "emerging as the international association of black law enforcement professionals with a reputation for providing education and leadership in the legal profession through its intensive training sessions and multi-disciplined networking."
Key Durbin quotes as prepared for delivery:
"It's great to have the annual conference back here in NBPA's home base of Chicago. This is where, in 1983, more than 100 Black prosecutors met for the first time to discuss their common experiences, goals, and concerns. From that meeting, the idea for NBPA was born."
Article continues after sponsor message
"A lot has changed over those years in our approach to criminal justice. Forty years ago, ideas like the so-called 'war on drugs' and the 'war on crime' were ascendant. Since then, we've tempered our approach and understood that 'smart on crime' can be just as effective, if not more effective, as 'tough on crime'. But through all those changes, NBPA has been here, working to ensure that prosecuting offices around the country would better reflect the communities they served."
"Your organization has been gracious enough to endorse a number of bills that I've introduced—common sense legislation designed to make our federal criminal justice system fairer and more effective at achieving public safety."
"And, crucially, you endorse judicial nominees. As Chair of the Senate Judiciary Committee, I can tell you that NBPA's endorsement is a significant measure of a potential judge's quality and reputation."
"But even more importantly, NBPA's work helping prosecuting offices recruit, retain, and promote Black prosecutors has created a pipeline of attorneys who become excellent judicial nominees."
"I applaud NBPA's commitment to its mission, and I congratulate all of you on this milestone anniversary as I welcome you to this conference and to the great city of Chicago."
More like this: