Sen. Durbin Raffirms Commitment To Ukraine, Calls On Colleagues To Pass Necessary Aid
Listen to the story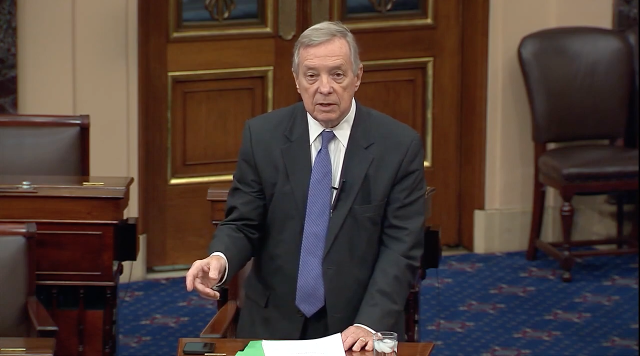 WASHINGTON – U.S. Senate Majority Whip Dick Durbin (D-IL), Co-Chair of the Senate Ukraine Caucus, spoke on the Senate floor on the need to pass additional funding to aid Ukraine after the 45-day bipartisan continuing resolution (CR) to fund the government failed to do so.
"Keeping the lights on is a win for the American people. It used to be considered just normal procedure… I am disappointed it [the CR] did not include critical funding for the war in Ukraine. It is impossible to explain to my constituency why, when the Ukrainians are in the midst of fighting and dying every day against Vladimir Putin, this Congress somehow or another managed to pass a spending bill for 45 days and not include more funding for the Ukrainian cause. The assistance is absolutely essential," said Durbin. "A small group of isolationists and Russian sympathizers—largely MAGA extremists in the House—threatened to hold the entire country hostage over this funding, despite its overwhelming bipartisan support for Ukraine. Ronald Reagan and John McCain must be turning over in their graves."
Get The Latest News!
Don't miss our top stories and need-to-know news everyday in your inbox.
During his speech, Durbin applauded Senate Majority Leader Chuck Schumer (D-NY), Minority Leader Mitch McConnell (R-KY), Appropriations Committee Chair Patty Murray (D-WA), Appropriations Committee Vice Chair Susan Collins (R-ME), Senate Appropriations Subcommittee on State, Foreign Operations and Related Programs Chair Chris Coons (D-DE), and Subcommittee Ranking Member Lindsey Graham's (R-SC) statement on the Senate's bipartisan commitment to supporting Ukraine.
Article continues after sponsor message
"Let's keep things in perspective—the American people have been generous to Ukraine, but this critical assistance that has halted and reversed Russian aggression accounts for only about half of one percent of all federal spending [in the last two years]. So for a modest investment by U.S. standards, we are keeping hope and freedom alive in Ukraine while they are offering their lives," said Durbin.
"Quite simply, Putin is willing to keep sending Russian conscripts to their death in the hopes that we, in the democratic transatlantic alliance, will get tired of his war of tyranny. I hope we never do. Putin is counting on the West, NATO, [and] the United States to becoming weary of his Ukrainian war of attrition. We cannot let him prevail by this approach. We have got to be organized and unified in our efforts," Durbin concluded.
Video of Durbin's remarks on the Senate floor is available here.
Audio of Durbin's remarks on the Senate floor is available here.
More like this: