Saturday Sports Roundup: Calhoun Tops MELHS In Play-In Game, Eagles Win By Forfeit
February 19, 2023 9:52 AM
February 19, 2023 10:00 AM
Listen to the story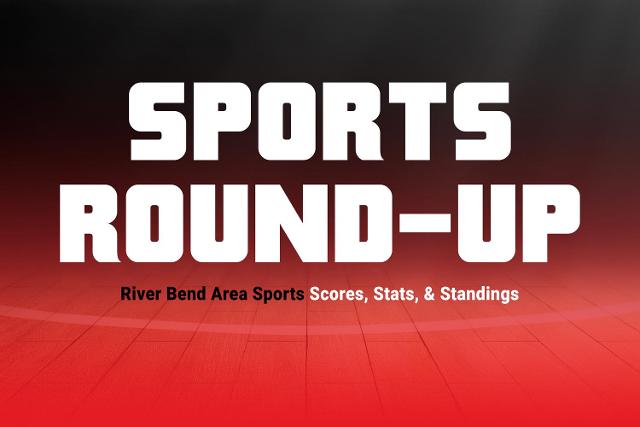 SATURDAY, FEBRUARY 18 SPORTS ROUNDUP
BOYS BASKETBALL
Get The Latest News!
Don't miss our top stories and need-to-know news everyday in your inbox.
IHSA PLAYOFFS --- REGIONAL PLAY-IN/QUARTERFINAL GAMES
CLASS 1A
RAYMOND LINCOLNWOOD REGIONAL
HARDIN CALHOUN 60, METRO-EAST LUTHERAN 56: In one of three play-in games in the Raymond Lincolnwood regional, Calhoun held off Metro-East in a closely contested game.
Chase Caselton and Connor Longnecker both scored 20 points for the Warriors, while Drew Wallendorf and Landon Sievers each hit for seven points. Thijson Heard led the Knights with 18 points, while Rodrick Holmes added 16 points and Kaleb Williams had 11 points.
Calhoun is now 12-18 and move on to play Madison, who won over Mt. Olive 113-29, in the semifinals Wednesday night at 7:30 p.m. Metro-East ends its season at 4-22.
In the other play-in game, Bunker Hill eliminated Carrollton 63-56 and will play the host Lancers in the first semifinal Wednesday evening at 6 p.m. The Minutemen are now 10-19, while the Hawks' season ends at 8-22.
In the quarterfinals of the Dupo regional, Waterloo Gibault Catholic won over Lebanon 87-27, Father McGivney Catholic eliminated SIUE Charter 66-44 and Maryville Christian won its first-ever IHSA postseason game, defeating Valmeyer 56-46. The result of the game between the regional host Tigers and Brooklyn Lovejoy was not available.
In the quarterfinals of the Jacksonville Routt Catholic regional, the host Rockets defeated Jacksonville Illinois School for the Deaf 84-22, it was Greenfield Northwestern over Franklin South County 37-32, Winchester West Central eliminated Pawnee 75-45 and Springfield Lutheran won over Springfield Calvary 71-49.
The quarterfinals of the Payson Seymour regional saw New Berlin winning over Pleasant Hill 57-19, it was the host Indians eliminating Liberty 54-41, Griggsvile-Perry defeated Barry Western 51-29 and Concord Triopia eliminated White Hall North Greene 59-30.
The semifinals of all regionals will be played Wednesday at 6 and 7:30 p.m.
CLASS 2A
EAST ALTON-WOOD RIVER REGIONAL
In play-in games in the semifinals of the EAWR regional, Salem won over Staunton 57-41 and Roxana nipped the host Oilers 45-44. The Wildcats are now 8-23, while the Shells go to 11-21 and advance to the semifinals on Wednesday, with Salem meeting Greenville at 6 p.m. and Roxana going against Piasa Southwestern at 7:30 p.m. The Bulldogs finish their season at 13-17, while EAWR's season ends at 13-18.
In a play-in game in the Litchfield regional, Pana won over Carlinville 53-42 and moves on to Wednesday's semifinal against Hillsboro, a 70-69 winner over Gillespie, at 7:30 p.m. The Panthers are now 15-14, while the Cavaliers were eliminated with a 6-19 record.
Article continues after sponsor message
In the other play-in game, the host Purple Panthers eliminated Vandalia 69-59.
CLASS 3A
AT CIVIC MEMORIAL
In the play-in game for the CM regional, the Eagles won by forfeit over Cahokia 2-0 when it was discovered that the Comanches had exceeded the limit for IHSA regular season games of 31. CM is now 14-18 and will play Triad in the first semifinal of the regional Wednesday night at 6 p.m., while Highland plays Jersey in the second semifinal at 7:30 p.m. Cahokia ends its season 10-23.
REGULAR SEASON
O'FALLON FIRST BAPTIST ACADEMY 70, MISSISSIPPI VALLEY CHRISTIAN 59: MVCS ended its regular season with a loss at O'Fallon First Baptist Academy.
Tommy Kunz led the Warriors once again with 28 points, while Joey Kunz chipped in with 14 points and Drew Gaworski added 13 points. Ryder Courtney led the Eagles with 29 points, while Noah Jasper and Owen Crabtree each scored 19 points.
First Baptist is now 8-14, while MVCS goes to 26-5 and plays in the Illinois Association of Christian Schools regional tournament at Westfair Christian in Jacksonville next Friday, Feb. 24, at 4:30 p.m.
GIRLS BASKETBALL
REGULAR SEASON
FAITH BIBLE CHRISTIAN (ROSAMOND, IL) 53, MISSISSIPPI VALLEY CHRISTIAN 32: in the semifinals of the Legacy Fire tournament in Roxana, MVCS lost to Faith Bible as the Falcons outscored the Warriors in the second half 27-10.
Anna Gaworski and Audrey Crowe both led MVCS with 11 points apiece, while Jessie Huels added six points.
Grace Jeffrey led Faith with 18 points.
LEGACY FIRE 59, MISSISSIPPI VALLEY CHRISTIAN 42: In the third place game against the hosts, as the Fire broke open a close game by outscoring the Warriors in the fourth quarter 23-9
Crowe led MVCS with 15 points, while Gaworski connected for 11 and Sarah Markel came up with 10 points.
The Warriors go to 14-8 and host East Moline Christian in the Illinois Association of Christian Schools regional Tuesday afternoon at 4 p.m.
If you have an item for the Sports Roundup, please E-mail the results and statistics to Dan Brannan at dbrannan@riverbender.com, or you may text the results to (618) 623-5930, and it will be used in that day's Riverbender.com/EdGlenToday.com Sports Roundup. We will accept both high school and junior high school results for the Sports Roundup.
More like this: