Listen to this article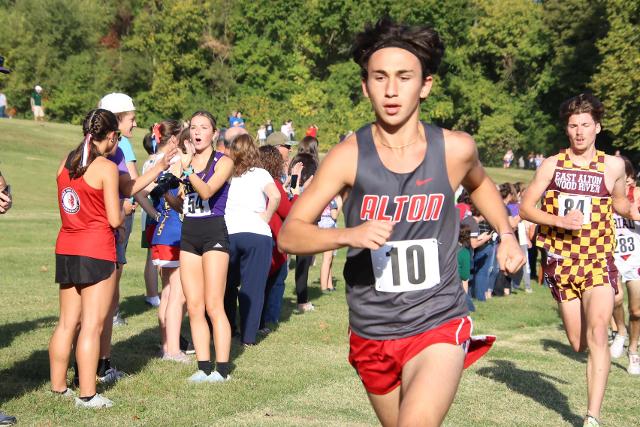 MADISON COUNTY CROSS COUNTRY MEET, OCTOBER 4 AT COLLINSVILLE HIGH SCHOOL

Get The Latest News!
Don't miss our top stories and need-to-know news everyday in your inbox.
BOYS SMALL SCHOOL RESULTS
All five of Civic Memorial's runners, led by race winner Jackson Collman, finished in the top ten as the Eagles won the small school race at the Madison County cross country meet Tuesday afternoon at Collinsville High School.
FINAL TEAM STANDINGS
Civic Memorial --- 19
Father McGivney Catholic --- 45
Metro-East Lutheran --- 83
Roxana --- 93
East Alton-Wood River --- no score
Maryville Christian --- no score
Marquette Catholic --- no score
TOP TEN
Jackson Collman, Civic Memorial --- 18:29.5
Lucas Naugle, Civic Memorial --- 16:55.3
Justice Eldridge, Civic Memorial --- 17:10.3
Max Weber, Metro-East Lutheran --- 17:17.0
Aiden Loeffelman, EAWR --- 17:22.8
D.J. Dutton, Civic Memorial --- 17:26.6
Liam Schmidt, McGivney --- 18:24.1
Connor Schmidt, McGivney --- 18:28.4
Jacob Cranford, Civic Memorial --- 18:36.1
Noah Jacob, Maryville --- 18:37.7
OTHER TEAM TIMES
CIVIC MEMORIAL
Tulio Zampieri --- 19:04.9
Landon Kearby --- 19:13.3
FATHER MCGIVNEY CATHOLIC
Riley Strack --- 18:46.9
Liam Boeving --- 18:53.8
Nolan Shearer --- 18:54.7
Levi Huber --- 19:02.2
Evan Rybak --- 20:05.3
METRO-EAST LUTHERAN
Grayson Wyatt --- 18:50.3
J.J.Lostutter --- 19:56.4
Jack Shank --- 21:00.6
Adam Broekemeier --- 24:38.2
Henry Schumacher --- 25:54.4
Cody Steele --- 28:01.5
ROXANA
Anthony Hardin --- 19:40.4
Natrhan Gilbert --- 19:40.4
Wyatt Doyle --- 19:40.4
Hunter Ponce --- 19:59.7
Erick Scroggins --- 20:16.6
Noah McVey --- 20:53.4
Aaron Shields --- 21:41.0
MARQUETTE CATHOLIC
Daniel Kline --- 19:30.2
Braden Nash --- 21:22.2
Josh Kreitner --- 22:16.2
Owen Page --- 22:32.3
BOYS LARGE SCHOOL RESULTS
Ben Perulfi was the winner, with Edwardsville taking of the top ten to edge Highland, who claimed four runners in the top ten, for the team championship
TEAM STANDINGS
Article continues after sponsor message
Edwardsville --- 39
Highland --- 42
Triad --- 65
Alton --- 91
Collinsville --- 126
Granite City --- 169
TOP TEN
Ben Perulfi, Edwardsville --- 16:35.6
Andrew Pace, Triad --- 16:37.4
Dallas Mancinas, Highland --- 16:48.9
Drew Twyman, Triad --- 16:53.2
Hugh Davis, Edwardsville --- 17:00.7
Andrew Gonski, Collinsville --- 17:01,6
Collin Thomas, Edwardsville --- 17:06.6
Avery Brock, Highland --- 17:06.6
Ethan Smith, Highland --- 17:08.7
Christian Knobloch, Highland --- 17:14.2
OTHER TEAM TIMES
EDWARDSVILLE
Parker Weaver --- 17:20.6
Scott Baxter --- 17:49.8
Sam Witter --- 17:53.0
Ben Ziobro --- 17:58.0
TRIAD
Sam Kuckuck --- 17:54.6
Dalton Mersinger --- 17:59.8
Ben Winslow --- 18:14.2
Jacob Metcalf --- 18:43.6
Dillon Henderson --- 19:32.4
HIGHLAND
Cole Basden --- 17:23.6
Braden Wakeley --- 19:08.1
Issac Irving --- 19:15.7
ALTON
Alex Macias --- 17:29.9
Simon McClaine --- 17:38.1
Noah Gallivan --- 17:50.9
Victor Humphrey --- 18:21.6
River Wrishnik --- 18:46.1
Charlie McAfoos --- 18:47.8
John Krafka --- 18:58.6
COLLINSVILLE
Brian Castro --- 18:41.7
DeAndre Brown --- 18:45.3
Yared Benitez-Salgado --- 20:19.2
Cal Swartz --- 21:21.3
Will Slaznik --- 22:21.5
Cooper James --- 23:26.5
GRANITE CITY
Daniel Wilson --- 18:51.9
Brendan Rayl --- 19:38.4
Josh Martin --- 19:39.2
Lewis Davis --- 20:35.0
Cleison Miranda-Gomez --- 21:27.9
Ethan Beatty --- 22:07.4
Trenton Clutts --- 22:13.0
More like this: