| updated May 9 2022 10:44 AM
|
Listen to this article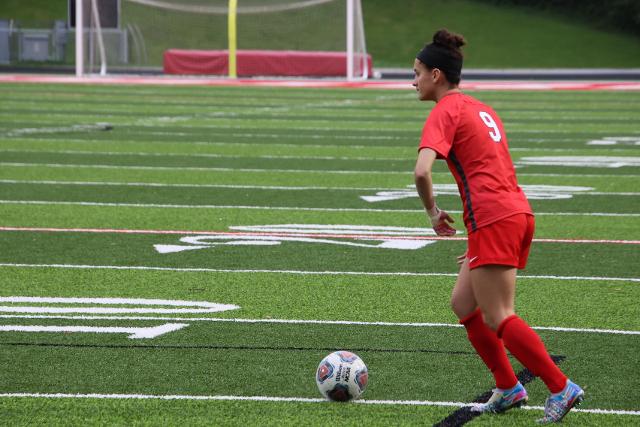 ALTON – "Truthfully, we are playing really exciting soccer because we score so many goals."
Get The Latest News!
Don't miss our top stories and need-to-know news everyday in your inbox.
That's what Alton High School girls soccer coach Gwen Sabo had to say after an emphatic 9-0 win over the Highland Bulldogs on Senior Night.
The Redbirds celebrated five seniors on the night: #7 Josie Paniagua, #10 Haylie Butler, #16 Caroline Stobbs, #21 Tori Schrimpf, and #24 Taylor Freer.
Butler, Schrimpf and Freer each wore a captains armband as all five seniors played a lot of minutes on a cold and misty night.
Alton wasted no time against a struggling Highland side (3-18). The Redbirds netted their first goal just three minutes in when freshman midfielder Lyndsey Miller scored her 9th goal of the season.
Ten minutes later senior midfielder Paniagua doubled the lead. It was her third goal of the year.
A couple of minutes later freshman midfielder Lily Freer scored her first of a few goals of the night. She dribbled past some defenders and had a ton of space. Fans yelled to shoot the ball and that's what she did. By far the highlight of the night was her goal in the 22nd minute when she curled in a shot from about 25 yards out. The ball went off the crossbar and in. Lily was just getting started.
Another senior got on the scoreboard in the first half. That was the defender Haylie Butler. She made it 4-0 as she scored off a great through ball.
In the 30th minute, Lily Freer grabbed her second goal of the night. Alton strung some nice passes together starting around half field. Finally, the ball came to junior forward Emily Baker who squared it back to Freer who put it away to make it 5-0.
Senior midfielder Tori Schrimpf scored a penalty in the 36th minute. The spot-kick was awarded after a handball inside the 18-yard box. She stepped up and put it away nicely for her 11th goal of the season.
Alton took a 6-0 lead into the halftime break.
Article continues after sponsor message
The Bulldogs held Alton back for a little bit in the beginning of the second half, but the Redbirds weren't done scoring.
Lily Freer finished off her hattrick in the 56th minute. After that performance, she now has 14 goals this season as well as 12 assists.
Freer picked up one of those assists when she helped Miller grab her second goal of the night to make it 8-0.
Finally, Lily's older sister Taylor, the senior captain, scored off of a set-piece play. The ball came in from Butler and Freer headed it into the upper corner and in. It was the final goal of the game to make it 9-0.
Coach Sabo loved all the goals of her team.
"I've never coached a team that is so offensive, and we just explode offensively," Sabo said. "We have so many players that want to go to goal, can attack the goal and do it well. So, it is really fun, we don't just have one goal scorer."
Defensively the Redbirds have been sound as well. This was junior goalkeeper Peyton Baker's third straight shutout as Alton has outscored their opposition 20-0 in their past three games. Sabo talked highly about her goalie and defense.
"She [Baker] definitely holds it down for us back there," Sabo said.
"She is our rock and I feel like as the season has gone on, our backline has started cliquing better together. Defense is something we continuously focus on, and we continue to improve on that, but the group is starting to clique, which is perfect as we roll into playoffs."
Alton only has two more regular-season games on their schedule. They'll take on Edwardsville on Tuesday, May 10th at 6:45 hopefully at Alton High School if the rain goes away. The Redbirds play Belleville East at 6:45 p.m. on Thursday at home.
The Redbirds will meet Collinsville once again in their first regional game. That game is set for 5 p.m. on May 17 at Collinsville.
More like this: