| updated July 24 2018 7:42 AM
|
Listen to this article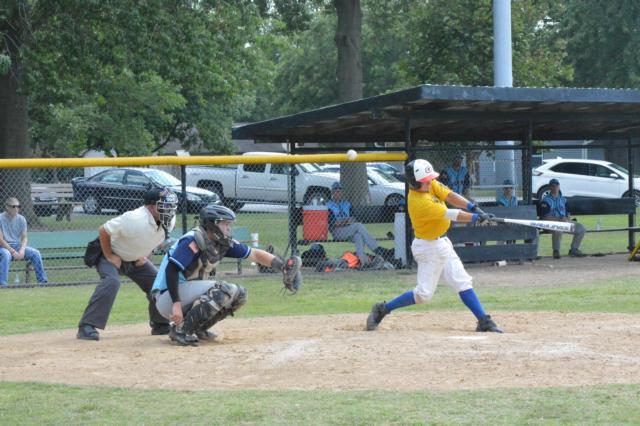 AVISTON – Edwardsville's American Legion baseball team had to come up big Monday afternoon when they faced Carmi in an elimination game of the Illinois Fifth Division baseball tournament at Aviston City Park.
Get The Latest News!
Don't miss our top stories and need-to-know news everyday in your inbox.
That Post 199 did.
The Legionnaires scored at least once in every inning and got a 10-strikeout performance on the mound from Zach Seavers as Edwardsville defeated Carmi 9-4 to stay alive in the double-elimination tournament, moving into a game at 5:30 p.m. this evening against host Aviston, who got past Orient Post 1961 (located near West Frankfort) 1-0 in Monday's second game; the winner of the 5:30 p.m. game will turn around and take on Salem at 8 tonight, with the winner meeting Newton – 12-5 winners over Salem in Monday's nightcap – in the championship round at 5:30 p.m. Wednesday, with a second game (if needed) being played at 8 p.m.
The Fifth Division winner moves into the Illinois state tournament beginning Saturday at Alton High's Redbird Field, with Alton Post 126 being the host team.
"He (Seavers) competed, he overcame a couple of misplays out there," said Post 199 manager Ken Schaake. "He lost his control for a little bit – it's uncharacteristic of him to hit a person with two strikes and the bases loaded and then also walk a runner in – that's uncharacteristic; the other innings – yeah, they got some hits off him, but they weren't able to string together three or four hits against him.
"That's what he's able to do is keep people off-balance; he doesn't have the overpowering fastball, but he's got the curve and what he calls a split-finger change-up that drops out, and that's what he was getting a lot of his strikeouts with."
Article continues after sponsor message
Schaake felt his team took much better approaches to their at-bats Monday than they had one in their 2-1 loss Sunday afternoon to Salem; it was something that had been discussed going into Monday's game.
"We talked about it – we talked about the pitch count on the guy yesterday and said, 'you know, how many times do we go up there and swing at the first pitch and so forth'," Schaake said. "You know, you're in the tournament – pitch counts count; we keep track, they keep track. It took you to the middle of the sixth inning to get (Salem's Trent Geller) out of the game (Sunday) whereas there were a couple of times we had the opportunity to take some pitches – maybe a pitch or two – and he would have been out before that. The thing we have going is our pitching and we need to have other people work as hard to show they have a pitch or two to win the games also."
Like Sunday's game, Tate Wargo got the wheels rolling for Post 199, scoring their first run of the game thanks to a Mikey Hampton single in the bottom of the first; a second run came in the next inning when Cole Hampton doubled to lead off the inning and came in on a Konnar Loewen RBI single to up the Edwardsville lead to 2-0. Three what proved to be important runs came home in the third, highlighted by a two-run Cole Hampton single that scored Alex Schreiber and Yates, that upped the lead further to 5-0.
Carmi cut the lead to 5-1 in the fourth, but Edwardsville countered with a pair of runs in the bottom of the inning, one coming from Wargo on the back end of a double steal with Wargo and Mikey Hampton teaming up before a Schreiber single brought in Mikey Hampton to increase the lead to 7-1 and leave Post 199 in control.
Carmi scored three more times in the top of the fifth to pull to 7-4 of Edwardsville, but Post 199 countered with solo runs in the fifth and sixth innings to run out winners and move on in the tournament.
Wargo ended the game with a 2-for-2 day with two runs scored, while Mikey Hampton was 1-for-3 with an RBI and a run scored, Joel Quirin 1-for-3 with an RBI, Chase Gockel a run scored, Schreiber 2-for-3 with an RBI and two runs scored, Yates 2-for-3 with an RBI and two runs scored, Cole Hampton 2-for-3 with two RBIs and a run scored and Loewen 1-for-2 with an RBI.
More like this: